Parents 'not taking up' free childcare offer, figures show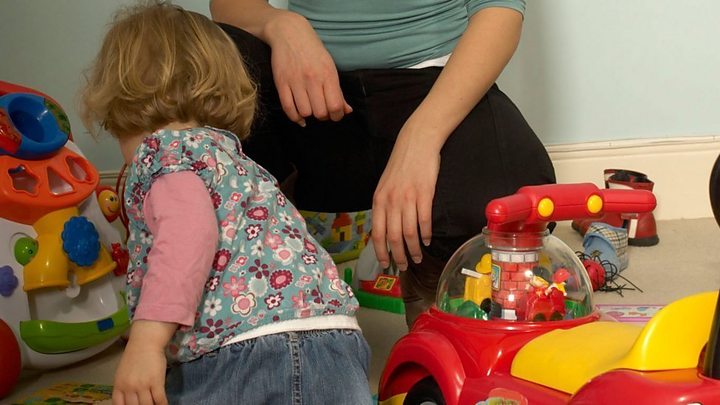 The number of parents taking advantage of a free childcare offer has been lower than expected, new figures show.
Working parents of three and four-year-olds can get 30 hours free childcare a week under the Welsh Government's flagship policy.
But a lack of uptake saw councils spend just £3.4m of the £10m allocated in 2017-18.
The Welsh Government says take-up "is continuing to grow."
The policy, which was one of Labour's flagship manifesto commitments at the 2016 assembly elections, covers 48 weeks of the year and aims to remove "one of the main barriers to employment".
Since September 2017, it has been piloted in seven areas - Swansea, Rhondda Cynon Taf, Caerphilly, Blaenau Gwent, Flintshire, Gwynedd and Anglesey.
Each time a child uses the scheme a payment of £4.50 per hour is triggered.
But, figures obtained by the BBC Wales Live programme show local authorities involved in the pilot only spent £3.4m of the £10m allocated to them by the Welsh Government for 2017-18.
Of this, £2.8m was spent on childcare and £550,000 on administration.
Councils said a lack of parents taking up the offer was the reason for the significant underspend.
Feedback to councils suggested parents:
Were not aware of, or did not understand the details of the offer
Were unwilling to move children from the care of family and friends
Decided not to move children from childcare settings not delivering the offer
Were not using their full entitlement as they combine the funded childcare with other informal care such as that from friends and family
The Welsh Government plans to spend a further £130m on the policy to meet its manifesto commitment of making the policy available across Wales by 2021.
In April it said 2,000 children were receiving funded childcare in the pilot scheme.
Last year however, a Welsh Government-commissioned report raised concerns that a lack of nursery places meant some parents would not be able to take up the full 30 hour offer.
Holly Littleton, a mother from Caerphilly, who is taking part in the pilot, said she had been paying over £600 a month for childcare for three days a week for her son.
"We're now paying nearly £50 a week," she said.
Dr David Dallimore, a childcare policy expert from Bangor University, said he did not think as many parents would take up the offer as the Welsh Government had hoped when it made the policy.
He said: "Parents are unwilling to change their arrangements because of the lack of flexibility and because of this main problem that three-year-olds are in part-time nursery classes in schools and there's no care to wrap around that place and very few non-school providers are able to provide that whole package."
'Demand-led'
Huw Irranca-Davies, the Welsh minister responsible for children, said he was not disappointed at the take-up in the pilot areas but acknowledged it was lower than expected.
"It is below what we anticipated, and we anticipate that it is going to grow more," he told BBC Radio Wales Good Morning Wales programme.
"Just like other demand-led programmes we've had previously, the uptake is slow at the very beginning - we're only seven months into it. We're only in seven local authority areas... and we're not even across most of the whole of those local authorities."
A Welsh Government spokesman said: "Take-up in the scheme is continuing to grow, and more new areas will be included in the pilot in the coming months.
"Our aim is to roll-out the offer across Wales by 2020."
Wales Live will be shown on BBC One Wales, 22:30 GMT on Wednesday 30 May and can be watched on iPlayer.