Neil Hamilton 'told by text' he lost UKIP job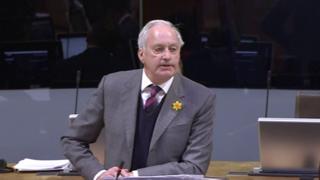 Neil Hamilton has said he was told by text that he lost his job as UKIP assembly group leader.
Caroline Jones said on Thursday that a majority of the group backed her over Mr Hamilton to lead the group of five.
But the former Tory MP said he was ambushed and there was no formal vote.
Ms Jones had said the decision was "amicable" but Mr Hamilton admitted he had some "difficulty" in understanding why his group decided to remove him, calling it a "mystery".
No record of the vote said to be taken on Thursday has been confirmed - however it is known that David Rowlands and Michelle Brown had backed Ms Jones.
The vote came after reports of a series of meetings and heated arguments among the group that began on Wednesday night.
"It was done effectively by means of an ambush," Hamilton told BBC Radio Wales.
"We didn't actually have a formal vote.
"We were supposed to discuss the various concerns of three members, who wanted a change, on Monday at our normal group meeting.
"We did have a meeting at which that was agreed. Then a few hours later I got a text to say that the three of them had decided that Caroline was going to be the leader."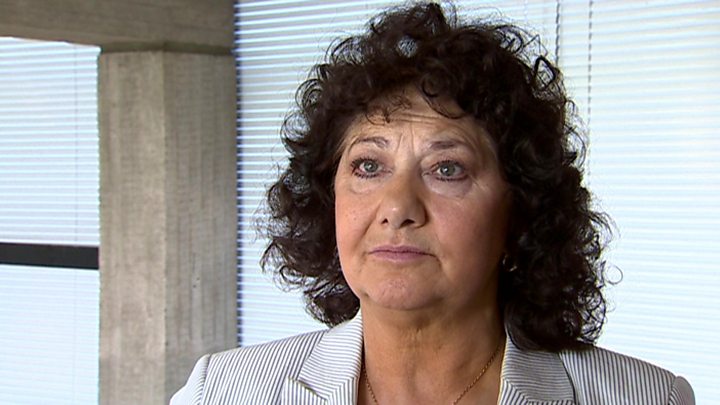 Mr Hamilton said he had "some difficulty in understanding what it was all about".
"Because, there was a litany of complaints, most of which were of old hat, and we discussed previously and that are of no great consequence to the outside world," he said.
"There were some new complaints made about Gareth Bennett and not about me."
"Caroline made clear to me in the form of a text that she had actually no difficulties with me as the leader of the group.
"People will be perplexed as to why has this happened, how has this happened - that is a mystery to the outside world. It is a mystery to me."
Analysis by Arwyn Jones, BBC Wales political correspondent
Neil Hamilton has certainly come out fighting giving a very different version of events to what Caroline Jones was saying on Friday morning.
However, he insists he is more than happy to continue to work with Caroline Jones, whom he considers to be a friend.
Well you may well wonder - with friends like these...
Her focus is on trying to reach out to new voters, attract support and remain relevant after Brexit. But internal rifts in the party just won't go away.
Asked if Ms Jones would be up to the job of tackling First Minister Carwyn Jones, Mr Hamilton said: "We'll see".
He said that she does not have his experience as a politician.
"Those kind of debating situations are not easy to cope with," he said
"Of course, I wish her well."
He added that it was "confusing" that he remained UKIP Wales leader - a position appointed by the leadership of the party at UK level while he was no longer group leader.
"No other party operates in this way," he said.
"There's got to be a reconsideration of how the leadership in Wales is chosen."