Theresa May claims Welsh Labour betrayed generation of children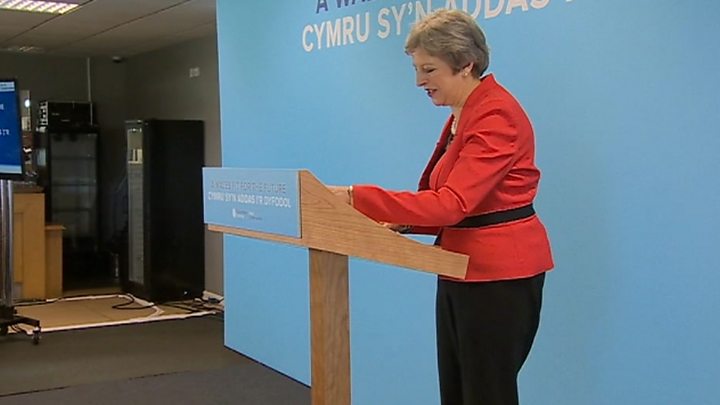 Wales' next first minister should follow England's lead on school reforms, the prime minister has said.
Theresa May told the Welsh Conservative conference Welsh ministers had "betrayed a generation of children".
She urged the Welsh Government to follow England's example by setting schools free of council control.
First Minister Carwyn Jones has admitted Labour took "its eye off the ball" on education in the early years of devolution.
Mrs May was giving the keynote speech at her party's Welsh spring conference at Ffos Las racecourse, Carmarthenshire, on Friday.
"We know about Labour's failures on the NHS, but their record on education is just as bad," she said.
She said Wales scored the lowest of the UK nation in the international PISA education tests, and was the only UK nation to score below the OECD average in reading.
"Let's not mince words," she said. "Labour have betrayed a generation of Welsh children."
Mrs May said the UK government had adopted some policies first introduced in Wales, such as a charge on the use of plastic bags and the presumed consent system for organ donations.
But she urged Mr Jones's successor to "take a look at what Conservatives have achieved in school reform".
"Look at the new curriculum which has driven up standards - with England now scoring higher in international studies," she said.
"Look at the free schools and academies that are bringing in diverse providers to create more excellent school places and getting some of the best results at GCSE.
"Look at the transformation in technical education that we are now leading - with high-quality T-levels and new Institutes for Technology - prestigious institutions that will offer technical education and training to young people and to those already in employment."
Mrs May urged the Welsh Government not to let "politics and ideology blind you to what is working and what could make a difference for young people in Wales".
Without reforms Wales would be left behind, the prime minister claimed.
Ms May's attack on the education record of the Welsh Government comes four years after David Cameron used Welsh Conservative party conference to declare that Offa's Dyke was the line of life and death.
Analysis by Nick Servini, BBC Wales political editor
Theresa May almost appeared to tease the audience by complimenting the Welsh Government on a number of policies before delivering the sucker punch accusing Labour of betraying a generation and presiding over a record on public services that was shameful.
In tone it was reminiscent of some of the attacks we used to see from David Cameron.
The framing of Brexit as an opportunity to close the enormous gap in wealth between places like west Wales and central London was also a new approach.
We are, in theory at least, a long way from an election and it feels like it in a low-key conference in which much of the focus is building up internal structures after a few disappointing election performances by the party in Wales in recent years.