Blind people 'cannot read' health advice, says RNIB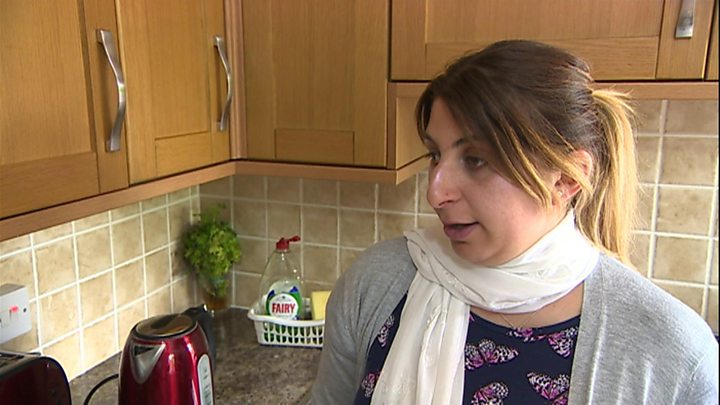 People with sight loss can suffer because they cannot read advice about health services, a charity has claimed.
The Royal National Institute of Blind People (RNIB) Cymru said it left many people missing appointments and confused about taking medication.
One woman told BBC Wales she was upset when a receptionist would not help her complete a form she struggled to read.
The Welsh Government said it monitored health boards to ensure accessible communication standards were being met.
More than 107,000 people in Wales are living with sight loss, according to RNIB Cymru, which claims this number is expected to double by 2050.
The All Wales Standards for communication and information for people with sensory loss were introduced in 2013 to ensure that NHS services appropriately communicate information to people with sensory loss.
But Ansley Workman, RNIB network manager Wales, told the BBC's Sunday Politics Wales programme the charity still hears on a daily basis about blind or partially-sighted people facing problems with matters such as advice on taking medicine.
"In terms of reading what the risks are and how to take the medication, the print isn't large enough and people can't read it," she said.
"So obviously that can lead to confusion for many people.
"We're really concerned that this is damaging people's wellbeing in Wales and they're not able to access services that everybody has the right to access.
"The Welsh Government needs to hold health boards to account to make sure that people with sight loss are no longer receiving a service that doesn't meet their needs and put their health at risk."
Tafsila Khan, from Cardiff, has retinitis pigmentosa, a rare degenerative hereditary eye condition that means that she has to get nearly all information in audio form, including letters about her health.
"When there's one [letter] for me from either a hospital or doctor, it's always in small print so I can't read it myself, so [my husband or children] will read it to me."
She thinks some NHS staff need more training on helping people with sight loss, giving an example of when she was asked to fill out a form by a dentist's receptionist.
"I said to her the print is too small and is not accessible for me to fill in myself, thinking that she'd probably say she'd fill it in with me.
"But she said that if couldn't fill in, then I couldn't go in for my dentist appointment.
"There were no options. It was just 'no, we can't'."
She added: "I was really upset - it threw me. When someone says a dead 'no' to you like that, you're stuck about what to do next.
"When you feel that upset, [you are] made to feel less of a person I suppose, because you can't do it yourself.
"With dentists these days, they're very hard to get. So if you don't go to a couple of appointments, you normally get taken off the register."
Ms Khan said someone in the waiting room ended up helping her fill out the form.
"I didn't feel comfortable, because I was giving him my personal and health details," she said.
"Some of the questions I didn't answer truthfully, because I didn't want him to know some of the answers.
"So they wouldn't have known all my health history."
A Welsh Government spokesperson said: "Health Boards are responsible for ensuring patients receive communication in the appropriate format.
"Effectively capturing the communication needs of patients with sensory loss is key, which is why in November we strengthened the standards by making it a requirement for all GP surgeries to identify and record the information and communication needs of patients with sensory loss.
"We will also continue to monitor health board performance plans and work with the Centre for Equality and Human rights to ensure these standards are being applied."
Sunday Politics Wales is on BBC One Wales on Sunday, 20 May at 11:00 BST.