Welsh Conservative urges opposition to end Labour rule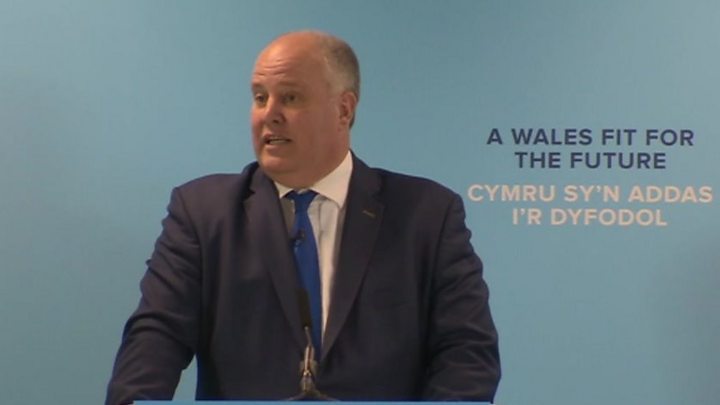 Opposition politicians should work with Conservatives to form a future non-Labour Welsh Government, the Tory leader in Wales has said.
Andrew RT Davies issued the challenge at the Welsh Conservative conference in Ffos Las, Carmarthenshire.
He said the opposition's failure to cooperate so far stopped them "unlocking progress and prosperity".
Later, Prime Minister Theresa May urged Labour to follow the Tories' example on school reforms in her keynote speech.
Labour's initial attempt to re-nominate Carwyn Jones as first minister of a minority administration after the 2016 assembly poll election failed, when opposition parties united to back Plaid Cymru leader Leanne Wood instead.
But Mr Jones was re-installed a week later, after a Labour-Plaid deal was struck.
On Friday, Mr Davies told the conference: "Beyond our own Conservative benches, there are immensely talented individuals with whom, looking ahead to the next assembly elections, I stand ready to work with to deliver the change in government Wales needs."
He said there were "only two roadblocks that I believe stop us unlocking this progress to prosperity that Wales needs".
"One is removing the Labour Party itself, and the other is those who acknowledge that Labour are the problem - but just can't bring themselves to work with the Tories to do anything about it."
Mr Davies added that it was "all well and good talking about what change in Wales you would want, but if you haven't got a route to get there, you're simply shouting from the sidelines".
Analysis by David Cornock, BBC Wales Westminster correspondent
If you talk to some MPs there's a recognition that if they want to get Labour out of power in Wales, then the only way is to join forces with other parties.
The problem is the Conservatives are still seen as toxic among Plaid Cymru supporters, which makes it very difficult to see how any sort of deal that would put Andrew RT Davies in as first minister could be engaged.
Mr Davies has floated this sort of deal before. So far, other parties have been slow to join in.
By the time of the 2021 assembly poll, Labour will have led the Welsh Government for 22 years, either in its own right or with support from Plaid Cymru or Liberal Democrat AMs.
The Conservatives lost three seats in Wales in the 2017 general election and three after the 2016 assembly campaign.
Welsh Tory chairman Byron Davies has admitted the party has been behind the game, as he set out plans to recruit full-time campaign managers.
Earlier in the speech, Mr Davies alleged that there "something very rotten" at the heart of the Welsh Government, saying it was "poisonous" and too-used to power.
"After two decades in power the Labour party in Wales has become arrogant, complacent and out of touch.
"A government that has abolished the right to own your own home, by scrapping the empowering right to buy scheme, and the bizarre decision to scrap the school uniform grant and the independent living grant."
He accused the Welsh Government of using private information "to smear and damage" its opponents.