Vulnerable people 'could be let down' by grant scheme change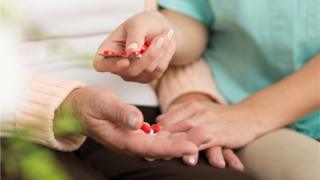 Changes to a £125m grant scheme to help vulnerable people live independently could be at risk of letting them down, assembly members have warned.
The Supporting People programme is said to have helped more than 67,000 people - most of them elderly - over 14 years.
But the public accounts committee said it was unable to assess how successful it had been, or why it was now being merged with other grant schemes.
Ministers said they were committed to ensuring such support was available.
Since the programme's launch in 2003, local councils have been given money to fund housing support services for vulnerable people, either directly or via third-party providers.
The idea is to help them stay in their own homes and ease the pressure on health and social services, with disabled people, abuse victims, ex-offenders and refugees also eligible.
Public spending watchdog the Wales Audit Office reported last August that there were "inconsistencies" in the way funding was allocated and managed.
The committee launched its inquiry in October after the Welsh Government's draft budget for 2019-20 showed the money was no longer protected, with local councils promised more flexibility on how to spend it.
'Serious reservations'
Conservative AM Nick Ramsay, who chairs the committee, said there were "significant shortcomings" in the way the programme was run, and confusion about how it would operate in future.
"The pace of progress in addressing issues raised by previous reviews, for example, with regard to the funding formula and the monitoring of the impact of the Programme, had been slow," he said.
"While we recognise that there may be scope to better integrate grant programmes to achieve better outcomes, we have serious reservations about the way the proposals for the new integrated grant were developed and announced in the fine detail of the Welsh Government's budget proposals."
The committee called on the Welsh Government to clarify the programme's aims and objectives, and to set up pilot schemes to test the idea of flexible funding schemes before pressing ahead with a full-scale merger of grant schemes for early intervention, prevention and support.
A Welsh Government spokesman said: "We are committed to ensuring that vulnerable people are supported to access good quality housing and help them maintain their tenancies.
"The Supporting People programme plays an important part in helping us achieve that aim."