Cuts to Education Improvement Grant criticised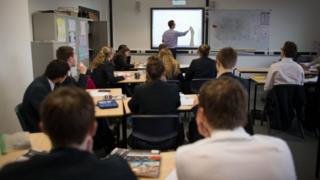 A £120m grant to help support education has been cut by £13m leading to fears about how children from minority backgrounds will learn English.
The cuts were made to the Education Improvement Grant, some of which is used for learning support and translation.
Wales' children's commissioner criticised the cuts saying the grant helps "the most vulnerable" youngsters.
The Welsh Government said it is making sure funding goes to the "front line".
A spokesman said the Welsh Local Government Association gave assurances schools will be prioritised in funding decisions.
Prof Sally Holland, the children's commissioner, said the fund was used in part to help children quickly gain skills and integrate.
"This is not a grant we should be thinking about cutting. I've seen the importance of it in schools," she said.
"I've seen the impact on individual children and on wider communities."
Chairwoman of the Children, Young People and Education Committee Lynn Neagle said in a letter to Education Secretary Kirsty Williams that she was disappointed that millions of pounds which included spending on supporting children from Gypsy, Roma and traveller, and minority ethnic backgrounds to learn English was being removed from the fund.
Meanwhile the Wales Secretary for the National Education Union David Evans said it is negotiating with the authorities worst affected over possible redundancies.
Councils are now having to consider how learners can be best supported.
For 2018-19, £7.5m has been set aside to alleviate the impact in the four areas with the highest amount of school learners whose first language is not English or Welsh.
In 2016-17, there were 12,199 in Cardiff, 4,220 in Swansea, 4,477 in Newport and 1,681 in Wrexham.
Swansea council is consulting on how to provide support in the future, however a spokesman said it has not received any of the cash yet.
In Newport, an online petition has been set up calling on local authorities to save the Gwent Education Minority-Ethnic Service it uses.
However, Neath Port Talbot council's cabinet member for education Peter Rees said it is "absolutely disgraceful" only four authorities have been given the grant.
The Welsh Government spokesman said it recognised "particular challenges for some authorities", adding: "We have identified an additional £7.5m which will alleviate the impact and help support the delivery of these services on a regional basis."