Allow Welsh Government to borrow more, says Mark Drakeford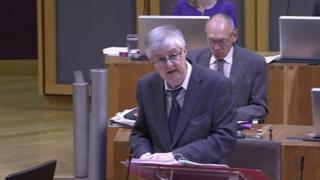 The Welsh Government is to ask the Treasury to be allowed to borrow more money to fund building projects.
Currently the Welsh Government can borrow up to £1bn for infrastructure projects.
Mark Drakeford, finance secretary, said he would be seeking an extension to that limit.
He said part of the reason was to ensure that projects in other parts of Wales would not suffer if the planned £1.4bn M4 relief road goes over budget.
Plaid Cymru AM Adam Price asked if the ability to offer bonds, to fund the borrowing, could be used to raise money for building projects and if Transport for Wales, the not-for-profit company set up to run public transport in Wales, should be allowed to borrow money itself.
Mr Drakeford said he would be interested to meet Mr Price "talk with him in more detail... about how those ideas might be taken forward".
Welsh Conservative leader Andrew RT Davies asked how confident he was that no more money would be required to fund the potential new stretch of motorway south of Newport.
The finance secretary said: "I have written to the chief secretary to the Treasury telling her that I will be looking for an extension to our borrowing powers for those future years in order that we can ensure, if we need more money as Andrew RT Davies has suggested, that if the M4 project goes ahead... that it does not take place at the expense of other necessary investments in other parts of Wales."
Borrowing powers for the Welsh Government came into full effect in 2018.
It emerged last year that the Welsh Government will spend more than £24m over three years paying back money it plans to borrow for projects including the M4 relief road.
Welsh ministers can borrow £125m in 2018 and £150m every year after that, using new powers, up to a £1bn total.