Welsh Conservatives slow to catch up rivals, says chairman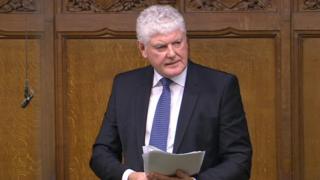 The Welsh Tory chairman admitted the party has been behind the game, as he set out plans to recruit full-time campaign managers.
The Tories lost three seats in Wales in last year's general election and three after the 2016 assembly campaign.
Byron Davies said: "The other parties have upped their game. We have been slow to catch up and realise that."
His comments come ahead of the party's annual conference at Ffos Las racecourse, Carmarthenshire, on Friday.
The Welsh Conservatives have also set out a strategy for cleaner towns and cities with a range of proposals including piloting a single-use plastic bag ban.
A recruitment process has begun for 10 full-time staff to organise campaigning and try to re-invigorate local associations in the run-up to the 2022 general election.
Former Cardiff North MP Craig Williams has been hired as a political advisor to liaise between Conservative AMs and MPs.
Mr Davies said future campaigns would be run at a more local level rather than from London, and the importance of the Welsh Conservative brand had been recognised by senior party figures.
Mr Davies, who took over as the party chairman in Wales six months ago after losing his Gower seat last year, said: "This is what is needed if we are to be taking Wales seriously.
"2017 was a watershed. We have now realised exactly what the challenge is for us and we have to at least meet it, and in fact we will better it.
"Let us not beat around the bush. We lost three people in the 2016 assembly election and we lost three MPs in 2017.
"That is not good news and yet ironically we had a good result in the local elections.
"We have got to identify the issues and these people are there to do that."
Conservative environment spokesman at the assembly, David Melding, has also set out a number of proposals to emphasise what he calls "liveability" in Welsh cities.
These include making Cardiff the UK's first carbon neutral city and ensuring all significant commercial developments have grass over at least 50% of the total roof area.
Mr Melding said: "Regional growth deals in Cardiff and Swansea can serve as a catalyst to attracting highly-skilled young people from across the country, but that will only heighten the need to create 'liveable cities' which are good for the economy, whilst remaining socially inclusive and environmentally sustainable."