Public not mislead on backing royal Severn crossing name - minister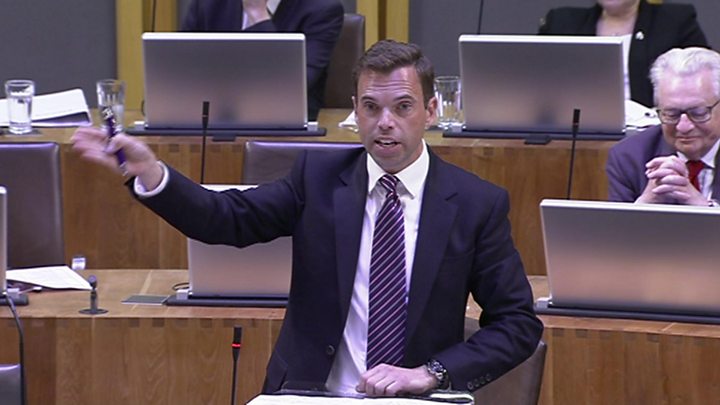 A minister has denied the public were misled over the Welsh Government's support for the renaming of the Second Severn Crossing.
It emerged earlier this week that the government had offered more support for the structure to be named the Prince of Wales Bridge than had been apparent when the announcement was made.
But Ken Skates told a Plaid AM his question on the matter was irrelevant.
His comments prompted furious scenes in the Senedd.
On Monday it emerged that First Minister Carwyn Jones had backed the UK government's renaming of the crossing, months before it was officially announced.
At the time of the announcement the Welsh Government had said it had not raised any objections - but Mr Jones' letter showed the Welsh Government had provided more support than that.
Some 38,000 people have signed a petition calling for a public consultation on the name change.
Dai Lloyd, Plaid Cymru AM for South Wales West, raised a topical question on the issue in the Senedd on Wednesday.
He said: "When the secretary of state declared his intention to rename the second Severn crossing a few months ago as the Prince of Wales bridge, I don't think that either he, you or the royal family had expected such opposition to the proposal."
Dr Lloyd added: "The first minister's response in this letter is a long way from the government's initial response, so I have just one question: has the government misled the public?"
Economy Secretary Ken Skates' angrily responded: "No.
"Do you know what - it's not just for myself, it's what people out there find really depressing sometimes about this place is the lack of relevance to their lives.
"The member could have asked a question about hundreds of jobs that have been lost in the region he claims to represent recently.
After heckling in the chamber from opposition AMs - and an interruption where deputy presiding officer Ann Jones said some in the chamber were behaving like children - Mr Skates suggested the debate was "self-indulgent".
Neil McEvoy, the independent and former Plaid Cymru AM, told Mr Skates: "If you're a royalist, why don't you come clean?"
"The member knows that I'm not a royalist," said Mr Skates, who previously said the name change was supported by many people.
"The member knows I'm a republican," the minister added.
He said the naming recognises "the contribution that the Prince of Wales has made to Wales and the global profile that the Prince of Wales has".