Anonymity concerns over draft assembly conduct plan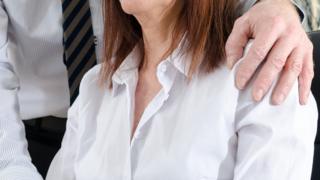 An interim policy to tackle inappropriate behaviour in the assembly should do more to ensure AMs keep complainants anonymous, a charity has said.
The plan was backed with wide cross-party support in a vote on Wednesday.
But equalities charity Chwarae Teg says it is unclear that AMs under investigation will be expected to protect the identity of a complainant.
The Assembly Commission stressed that more work on the policy is underway.
The new Dignity and Respect Policy, which aims to regulate assembly members' public and private conduct, comes in response to allegations of inappropriate behaviour within Westminster politics that surfaced last autumn.
It aims to clarify what constitutes unacceptable behaviour, make it easier for victims to report such instances, and would apply to all assembly members, their staff, assembly office holders and contractors while working.
But the policy, which sits alongside the present code of conduct, goes further for assembly members themselves.
According to the report it would "govern assembly members' behaviour at all times, in all places and in all contexts" including where the AM "is acting as a private individual" and if they are "on holiday".
The policy itself notes that it will "usually be necessary to reveal your identity to the person you are complaining about, to ensure that they are treated fairly."
Chwarae Teg's chief executive Cerys Furlong said it is "unclear whether an AM under investigation will be expected to protect the identity of a complainant and whether there will be repercussions for these details being leaked".
She said the policy is an "important step" towards tackling incidents of inappropriate behaviour.
But she added that the issue of social media is missing from the policy "and an area we would suggest requires urgent attention".
She said it is "vital that a culture is developed within Welsh public life that enables women to bring complaints without fear of targeted, sustained aggression and harassment, particularly on social media".
Since November the Assembly's Standards of Conduct Committee has been carrying out a review of the existing code of conduct for assembly members.
But in March it announced that the review would take longer than expected "in light of the evidence heard," and that an expert advisor would be appointed to help with the work.
In the meantime, a new confidential phone line and email has been established for assembly staff, along with specific contact officers trained to deal with any allegations.
'Milestone'
Assembly standards committee member and Plaid Cymru AM Llyr Gruffydd said: "The Dignity and Respect Policy is intended to establish basic principles that everyone in the national Welsh assembly should abide by.
"The policy is not intended to deal directly with every possible context, but to be a milestone in the process of creating a culture of respect and dignity."
An Assembly Commission spokeswoman said: "We consulted with many external partners such the WCVA, Wales Audit Office, ACAS and Chwarae Teg to benchmark the draft policy, and their comments have been taken into account."
She said there will be more work underway - "and key to this will be the recommendations" of the standards committee, she said.
"In the meantime, this policy sets out the high standards of conduct that everyone in contact with AMs, or anyone associated with the assembly, can and should expect."
She added: "This policy covers all inappropriate behaviour that adversely affects the dignity of another person - that is, all unwanted behaviour."
Plaid, which backed the policy alongside Labour and the Conservatives, said it "must be seen as one small step on a much longer journey."
'Surveillance'
UKIP Wales said it also welcomed and supported the new policy.
But the group's leader Neil Hamilton later said it could lead to members facing "surveillance" by "outsiders".
In a debate in the Senedd he said the policy needed to be interpreted "proportionately and sensibly" so as not to infringe freedom of expression and right to privacy.
AMs approved the policy on Wednesday, 52 votes for and zero against.
There were two abstentions from independent AM Neil McEvoy and Mr Hamilton, although the rest of the UKIP group backed the policy.