Welsh minister Alun Davies's shouting 'unacceptable'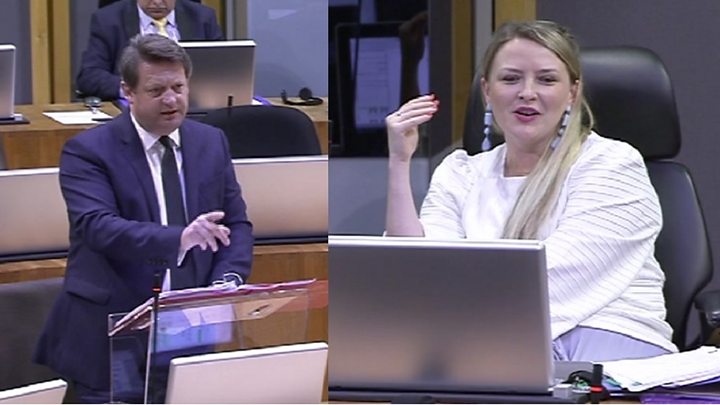 The way Welsh Government minister Alun Davies shouts at some AMs is unacceptable, a Plaid member has said.
Last week Plaid leader Leanne Wood accused ministers of being patronising.
Her colleague Simon Thomas said there were some in the Welsh Government who "over-sledge"- a cricketing term for insulting the opposing team.
Welsh Government minister Julie James claimed Mr Thomas was undermining the judgement of the presiding officer with his comments.
Ms Wood had written to First Minister Carwyn Jones claiming that the behaviour of some ministers was "demeaning" the assembly in the way they spoke to AMs in the Senedd chamber.
Her Plaid colleague Mr Thomas told reporters on Tuesday: "She was not advocating not having a robust debate but was specifically saying certain ministers had a tendency to patronise Plaid Cymru members."
He added: "Certain women were getting it worse than men."
Mr Thomas admitted he was the kind of politician who "gives as good as he gets" but accused some ministers of unacceptable behaviour.
He said: "I have to be diplomatic with the answer I give because the Presiding Officer hasn't ruled anything out of order.
"But I do think personally that the way Alun Davies shouts at some members is unacceptable. But that is a matter for the Presiding Officer."
Responding for the Welsh Government, Leader of the House and Chief Whip Julie James said: "It is incredibly unfortunate for Simon Thomas to be undermining the judgement of the Presiding Officer in this way.
"It is also deeply unhelpful for anyone who wants to tackle genuine gender issues to claim that these remarks are only made by men to women."