UK ministers have no answer on EU trade, says Carwyn Jones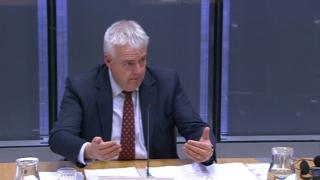 The UK government does not currently have an answer to post-Brexit trading arrangements with the EU, the first minister has said.
Carwyn Jones said he cannot see how "an open border on the island of Ireland" can be maintained without some form of a UK-EU customs union.
But the UK government has ruled out establishing a customs union with the EU.
It is discussing two potential options that have divided cabinet members.
Mr Jones said some progress had been made on giving the Welsh Government a greater role in upcoming Brexit talks but there was "no formal agreement as yet".
Giving evidence to the National Assembly's Brexit Committee on Monday, the first minister said the UK government produced a paper at a recent meeting with Welsh and Scottish ministers on their role in developing the UK Brexit negotiating position.
He said agreement was needed on a suitable structure for the different governments of the UK to feed into Brexit talks before the next meeting of EU leaders in Brussels at the end of June.
The UK government is aiming to sign international free trade agreements with countries outside of the EU after Brexit.
Mr Jones said his government had "pushed the UK government to be more transparent and open in its talks with other countries" but they had "not been invited to take part in working groups that have been set-up, for example the Australia-UK working group".
He said: "It's vitally important for them to be able to keep us and Scotland on board.
"I suspect the last thing they would want is to look to announce a free trade agreement in the teeth of opposition from a devolved administration. That clearly is going to cause difficulties for them," he said.
In an article for the Sunday Times at the weekend, Prime Minister Theresa May said her government was aiming to "leave the customs union so we can establish our own independent trade policy and negotiate trade deals in our interests".
She said: "I have proposed different options for a new customs arrangement with the EU and the government will continue to develop them during the negotiations."
Downing Street has proposed two options in terms of customs - a "highly streamlined" customs arrangement known as "max-fac" - and a customs partnership.
But the first minister said he does not believe the UK government's options were compatible with Downing Street's desire to continue without a hard border in Ireland.
Mr Jones said: "Bluntly, I don't think the UK government have the answer to this.
"I just cannot see how the UK being outside the customs union can possibly work with an open border on the island of Ireland."
"I just can't see how it works if there are no checks on the border between Northern Ireland and the Republic of Ireland and no checks on goods travelling from Northern Ireland to Great Britain, which itself raises a number of political questions that are difficult to resolve."
"I cannot see any other arrangement that works (for the Irish border) if the UK is not in a Customs Union," he added.