Jack Sargeant denies claims against late father, Carl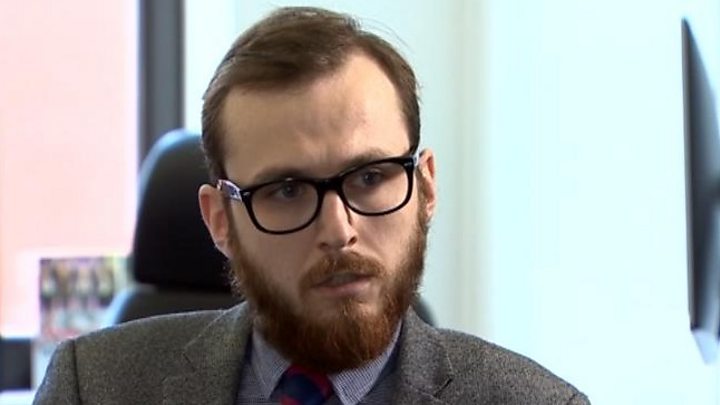 The son of late Welsh minister Carl Sargeant has rejected claims his father acted inappropriately towards women.
Mr Sargeant was found dead last November, days after First Minister Carwyn Jones fired him.
Jack Sargeant, the AM for Alyn and Deeside, said his family "stood behind him then and I certainly stand behind that now".
Mr Sargeant said a QC-led inquiry into what took place around his father's sacking "needs to get started".
A Welsh Government spokesman said preparatory work was well advanced.
Carl Sargeant is understood to have taken his own life days after Mr Jones dismissed him from the cabinet and after his suspension from the Labour party ahead of an investigation.
His son won the subsequent by-election triggered by his father's death.
The former communities secretary was accused of "unwanted attention, inappropriate touching or groping".
"We as a family and dad strongly denied the allegations," Mr Sargeant told BBC Wales.
The Welsh Government has commissioned QC Paul Bowen to look into the matter, but his independent inquiry is yet to start taking evidence.
"We're half a year on and we're still seeking answers, and those answers are needed, I think, for the grieving process to begin for some people, or to carry on the grieving process for some people," Mr Sargeant said.
'Extremely long time'
He said six months was an "extremely long time" to wait.
"I'd like to hope no one is dragging their feet, because let's not forget someone's died here," he said.
Mr Sargeant said "lessons clearly have to be learned".
"We should look at mental health. The government and the assembly should be at the forefront of that and there are clearly answers that need to be addressed and that inquiry needs to get under way for that reason so this does not happen to another family," he said.
"I don't want another son to go through what I've only just started going through."
He said he has only had "one brief discussion" with Carwyn Jones on his first day in the assembly, but said that was not a surprise with the inquiry.
Asked if he was glad that Mr Jones was stepping down as first minister, Mr Sargeant said: "I'm glad that the Jones family are getting their dad back and their husband back, and that decision is Carwyn's decision."
But he added: "Unfortunately, I'm not getting dad back".
Marking National Mental Health Awareness Week, Mr Sargeant said the "stigma" around mental health needs to be broken.
He said his father was "clearly... going through a dark time during November and over that weekend".
He added: "You don't know what's going on in so many people's lives, or behind the scenes, and it is hard to talk. I know that from personal experience."
'Dark days'
Mr Sargeant said it was "clearly difficult" for him to visit the Senedd.
"It's only been six months, half a year - it's a long time for an inquiry not to start but it's not a long time for the grieving process.
"Clearly, there are dark days. They come in waves and no one knows when they're going to come."
A Welsh Government spokesman said: "Preparatory work for the investigation has been under way for some time and is well advanced.
"Following constructive discussions, we are in the final stages of agreeing with Paul Bowen QC the detailed protocol for how the investigation will operate."