Cheap forced land sales not ruled out in Wales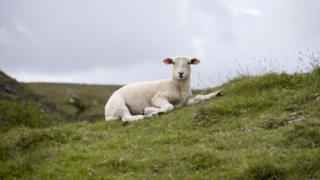 Concerns have been raised over proposals to force land sales for social housing at cheap rates.
The UK Labour party proposes to allow the state to buy land in England nearer to the value it had before any planning consent was given.
Rural affairs minister Lesley Griffiths has declined to rule it out in Wales and suggested such a scheme could be considered with more evaluation.
But a Tory AM has warned it could hit food production if farms were affected.
UK Labour, which is in opposition in Westminster, is considering a change in the law to create a "sovereign land trust" in England that could compel land owners to sell sites at closer to the value for its existing use.
The issue is devolved and would likely need a change of the law in Wales - where Labour is in power - to be implemented.
Land increases in value when planning permission is granted, which can benefit private landowners and companies that specialise in buying land for development.
A green paper by the party said land designated for agricultural use increases in price a hundred-fold when designated for residential use, rising from about £21,000 to £2.1m per hectare outside of London.
Labour has said it could cut the cost of building 100,000 council houses a year by almost £10bn.
The party argues that tackling the high price of land is essential to ensuring the building of more affordable homes.
Labour would need to be in government at a UK level to make the idea a reality in England, but the proposal has been backed by Conservative MP Nick Boles.
It has prompted concern from the Country Land and Business Association (CLA), which represents agricultural landlords.
CLA Cymru director Rebecca Williams said: "The best way for Welsh Government to tackle the rural housing crisis is to remove the barriers that still stand in the way of private landowners who want to invest in providing small housing schemes in rural areas, not impose a threat of compulsory purchase".
"We are open to a more fundamental review at these issues, but it must start from the point of view of working with landowners, not seeking to forcibly remove their assets at artificially low prices," she added.
Suzy Davies, a Welsh Conservative AM, asked Ms Griffiths in a written question whether she would rule out adopting a Welsh version of the UK Labour proposal.
The minister replied: "A Sovereign Land Trust is one of several possible tools to achieve a more equitable distribution of land value uplift arising from land being allocated in local development plans and the granting [of] planning consent, all of which require further detailed evaluation."
In a follow-up question in the National Assembly for Wales chamber, Ms Davies gave the minister a further opportunity to rule out implementing a similar policy in Wales.
"I know I sent the Member a detailed response on this issue, and I don't have anything further to add to that," Ms Griffiths said.
Ms Davies said: "The Welsh Labour Government says that food production is important to the Welsh economy.
"At the same time they have refused to rule out a policy that could scupper that.
"Do they not realise that without agricultural land, and the farmers to manage that land, Wales will struggle to keep up with its current levels of food production."
The Welsh Government was asked to address the comments but a spokeswoman said it had nothing to add, referring queries to Labour's UK headquarters.
The party declined to comment.