Pinewood's Welsh TV and film fund frustrating, claim Bang producers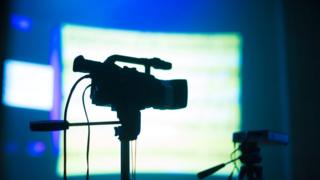 Working with a world-famous studio that formerly managed a £30m fund for TV and film-making in Wales was confusing and frustrating, according to a company that benefited from the system.
Pinewood ran the Welsh Government's Media Investment Fund for three years.
Joio, which received cash for S4C's crime drama Bang, said that Pinewood did not have a representative based in Wales who was easily accessible.
Pinewood, which set up a studio in Cardiff, has been asked for comment.
The company's administration of the £30m fund - now directly managed by the Welsh Government - was part of the deal announced in 2014 which saw Pinewood set up a base in Wales.
At least £11.9m in loans have been provided by the budget as of last November.
In evidence to a Welsh Assembly's culture committee inquiry into the film and TV industry, Joio said it only got the £350,000 funding for Bang once the series had been produced and broadcast in full.
While the company emphasises that the funding was essential in realising the project, they were "not always confident we knew how the process of awarding the investment would play out and what the timescale would be".
"This made planning our production and the cash flow incredibly difficult," Joio said.
"While we are incredibly thankful to Welsh Government for investing in the project, we believe all parties involved would agree it was a very drawn out process and incredibly frustrating," the firm explained.
Joio said the application and decision-making processes were "lengthy and complicated" and there was a "great deal of confusion and frustration" caused by a lack of communication and information on Pinewood's part.
"It was particularly problematic that Pinewood did not have a representative based in Wales who was easily accessible to us," the evidence claimed.
The drama has since won an awards at the New York Film and Television Festival and at the recent Celtic Media Festival in Llanelli - with over £2.5m of their £2.8m budget spent in Wales.
The evidence says the number of views for the programme on S4C's on-demand system and BBC iPlayer have been "record-breaking".
Giving evidence to the committee on Thursday morning, director of Joio, Roger Williams, said "Pinewood's vision is importing work to Wales", rather than generating local production.
He said that vision should be refreshed, with schemes imported into Wales not prioritised.
Economy Secretary Ken Skates announced last November that Pinewood had taken a "commercial-based decision" to withdraw from third-party fund management, handing responsibility for the fund back to the Welsh Government.
A spokesman for the Welsh Government said it "provides substantial support to indigenous Welsh films and projects that are broadcast on television and online platforms".
"For example we were proud to support the hugely successful and record-breaking BBC drama Keeping Faith which was produced bilingually and was bursting with first class Welsh talent," the spokesman said.