Patronising ministers demeaning Senedd, says Leanne Wood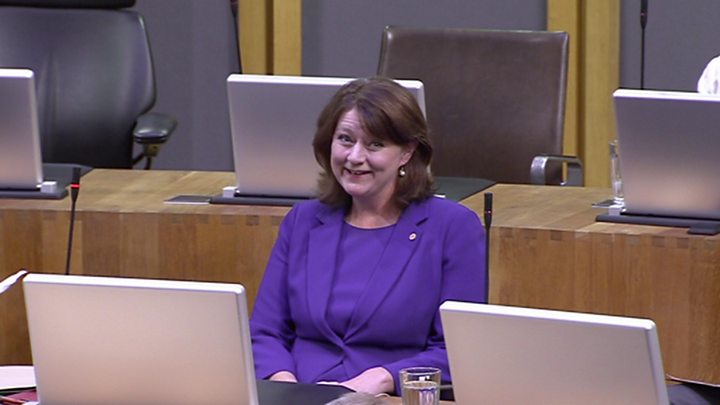 Plaid Cymru leader Leanne Wood has accused Welsh Government ministers of being patronising and making personal attacks on her party's AMs.
First Minister Carwyn Jones comparing her to Jacob Rees-Mogg was intended to be "personally hurtful", Ms Wood said.
She said it was "demeaning" the assembly and at odds with a call by Mr Jones for a "kinder, fairer politics".
The Welsh Government said it was an "unfortunate response to a genuine offer" from the first minister.
It follows a clash between the Plaid and Welsh Labour leaders on the subject of Brexit at First Minister's Questions on Tuesday.
Mr Jones accused the pro-EU Ms Wood of sounding like the hardline Brexiteer Tory MP when she used words like "capitulation" and "betrayal" to describe the Welsh Government's agreement with UK ministers to end the row over a so-called Brexit "power grab" by Westminster.
In a letter to the first minister on Wednesday, Ms Wood said: "This pattern of behaviour is demeaning our institution and the offices of state which you currently occupy."
The Plaid leader said it was a "farcical personal attack".
"This was not an attempt to address the issues or questions I raised, but to draw a parallel that you believed would be personally hurtful," she said.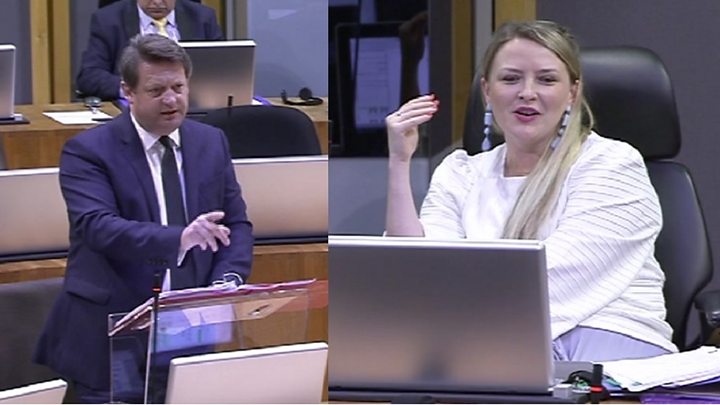 Ms Wood said local government secretary Alun Davies was "patronising and demeaning" to Bethan Sayed, Plaid AM for South Wales West, when he said on Wednesday: "Well, perhaps the Member doesn't wish to listen; perhaps that's why she's confused."
Mr Davies had been answering a question from Labour AM David Rees regarding Welsh Government policy on new prisons.
Ms Wood also said that a claim by Counsel General Jeremy Miles that the Plaid leader had "misunderstood" the agreement between the UK and Welsh governments on the EU Withdrawal Bill failed "to respond to my question in a dignified and substantive manner".
"To respond to members in the chamber, especially the tone used towards women members, is not acceptable and must not be allowed to continue or develop," she added.
"I would appreciate you taking the time to outline to your cabinet what you believe to be appropriate behaviour."
'Co-operative approach'
In a speech on Wednesday to mark Europe Day, Mr Jones had urged UK political parties to put aside their differences and work together to "re-engineer our relationship with our European partners in a way that safeguards common bonds and, in doing so, help us make real our ambition of a kinder, fairer politics".
In response to Ms Wood's letter, a Welsh Government spokesperson said on Thursday: "The First Minister has spent the day in Anglesey working with people from different political parties and all walks of life, trying to secure a better deal for Welsh communities.
"That's putting into action the better, more co-operative approach the First Minister has been talking about. The letter from the leader of Plaid Cymru seems like an unfortunate response to a genuine offer."
Analysis by BBC Wales political editor Nick Servini
Comparing Leanne Wood to Jacob Rees-Mogg could be described as a bit of light-hearted knockabout, but Ms Wood believes there is a pattern of personal and patronising attitudes to women in the chamber from Labour ministers.
These accusations are virtually impossible to gauge; one person's dismissive sleight is another person's legitimate defence.
And it is worth saying that Leanne Wood had just accused the first minister of betraying the nation by capitulating during the talks on Brexit legislation.
There's also likely to be plenty of raised eye-brows from Labour AMs at the letter, considering that some of the most vocal and robust performers in the assembly are currently to be found on the Plaid benches.