Arrests of online sex offenders by Welsh police 'double'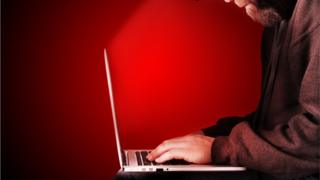 The number of people caught downloading indecent images of children has doubled in the past year, according to a senior police officer.
All four Welsh forces have been clamping down on such sex offenders under Operation NetSafe.
It comes as probation officers say young people could be at risk because of a lack of effective ways of rehabilitating offenders.
But the Ministry of Justice says a new programme is starting this week.
Assistant Chief Constable at South Wales Police Jonathan Drake said: "We've probably had twice as many arrests and prosecutions as the year before, and I see that number will continue to grow at least in short term.
"But my key message is prevention is better than cure."
As part of the 18 month long operation, police have been working with child safety charity, the Lucy Faithfull Foundation, which ACC Drake says helps offenders - and potential offenders - understand and address their behaviour.
"I believe that gives the very best chance of reducing that type of offending," he said.
But there are concerns that those who have been convicted of accessing indecent images may be falling between the gaps after the Ministry of Justice scrapped courses for offenders last year when a report found they increased the risk of reoffending.
Tania Bassett, from the National Association of Probation Officers, told the BBC Wales Live programme that it has left them with "a void" of specific interventions for those accessing indecent images on the internet.
She said: "We're now having to use a much more generic sexual offending programme which doesn't really address the specific causes of internet offending.
"If we fail to address underlying causes of sexual offending then people will go on to reoffend."
BBC Wales Live has spoken with one man who has been jailed three times for viewing and distributing thousands of indecent images of children.
"There are abuse issues of mine from a child," he said. "After the Internet became sort of more dominant, they manifested themselves in traditional pornography and then that just moved further and further into child abuse images."
He said he knew children had been harmed, but he managed to "subdue those thoughts".
'Untold damage'
He is critical of the courses he did in prison - the same courses that have now been scrapped - and did not feel they were effective. He now pays for support from Monmouthshire-based charity StopSO.
"I'm not here to make some sort of case for being kind to people that commit sexual offences, that's certainly not my agenda. They are horrific crimes that cause untold damage to victims.
"But if you manage the perpetrator of that crime effectively, you'll have less of those victims," he said.
Juliet Grayson, one of the founders of StopSO, says not enough attention is given to rehabilitating sex offenders.
"Because people can't say, 'mum I've got this weird sexual attraction to children, can you get me some help", they don't get the help.
"I sometimes say to people 'how would you feel if it was your son who is coming to you saying they needed help?' Of course you'd want them to get the therapeutic help that they could to stop - or not to get started in the first place."
In a statement, the Prison and Probation Service said it was now introducing iHorizon, a new rehabilitative course for those who have committed sexual offences solely online to "help participants develop better skills to manage their risk of reoffending".
The spokesman said there would not be a gap in provision and that "we keep all treatment programmes under constant review".
BBC Wales Live will be available on the BBC iPlayer shortly after it is broadcast on BBC One Wales at 22:30 on Wednesday 9 May.