The Swansea Bay tidal lagoon: What happens next?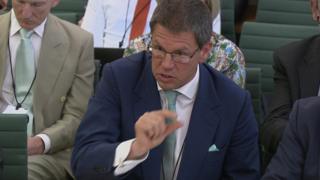 The newspapers have delivered their verdict. Tidal lagoon 'would need large subsidy' to cut costs - The Times. Swansea Tidal cost claims crumble under questioning - The Daily Telegraph.
Both reports of Wednesday's committee hearing at Westminster will add to the frustration already felt at Tidal Lagoon Power's Gloucester headquarters, although that might be lessened slightly by the Telegraph website's inability to spell its chief executive's name correctly.
Mark Shorrock's admission that the project could only match the cost of energy produced at Hinkley Point through Welsh Government investment prompted BEIS committee chair Rachel Reeves to question whether this was an "additional subsidy" on top of that required through the contract for difference.
While Mark Shorrock was largely among friends - some MPs told him their constituents were rather keen on the project - Ms Reeves raised the bar for scrutiny by challenging Mr Shorrock on his sums and the way he made them add up.
Brecon and Radnorshire MP Chris Davies (a parliamentary aide at the Wales Office) joined in: "Whichever way it's packaged this is taxpayers' money coming from Westminster which goes to the Welsh Assembly which is then being repackaged, which is then coming in as an additional taxpayers' allowance to your lagoon - do you think that's fair on the taxpayer?"
Mr Shorrock (unsurprisingly) replied: "I don't see it like that. I see it as the Welsh Government making a commercial investment. They're making a return and what they're really doing is they're creating an enormous new industry for jobs."
Former Energy Minister Charles Hendry repeated the cost comparison he made in his review published 16 months ago. "It is a pint of milk a year for 30 years," he told the MPs. "It is 30p a year."
Mr Hendry is probably paying around 40% less than the rest of us for his milk and his argument was challenged by Richard Howard of Aurora Energy Research who said that "pint of milk" added up to tens of millions of pounds a year.
Mr Howard wondered why there was no representative of consumers on the panel of four. Having allocated only an hour to grill four panellists that might have made proper scrutiny even more challenging.
Wednesday's was the first session in this inquiry, although some MPs appear to have made up their minds already. Both Geraint Davies and Tonia Antoniazzi stressed the local support for the scheme.
'Expensive'
The morning afterwards, Ms Antoniazzi told the Commons: "In Swansea and Gower, we are absolutely desperate for some good news, following the tragic job losses this week. Please can we have some good news for south Wales, and please will the Leader of the House find time to discuss the urgency of a decision on the tidal lagoon?"
Andrea Leadsom was sympathetic but reminded MPs it is "a very expensive and complex project".
So what happens next? Ministers from the Welsh and UK governments are due to be questioned but there is no agreed date yet - it is unlikely to before the Whitsun recess.
Could an announcement be made before then? There have been rumours that the go-ahead could be announced at the Welsh Conservative conference on May 18.
That may prove to be another false deadline, rather like previous spending reviews and Budgets, but I could be wrong. The lack of contact between Tidal Lagoon Power and ministers suggests an announcement is not imminent although much of the work is being done by officials. Charles Hendry said he wasn't disappointed by the delay as we are now "nearing the end game".
As the MPs took evidence, Energy Minister Lord Henley said the UK government will give its response to the Hendry review "shortly" - which is an update on the usual "in due course".
My colleague Steffan Messenger has a comprehensive report on Wednesday's hearing here.
You can also listen to my report for Radio 4's Yesterday in Parliament here (it's 24 minutes into the programme).