Free childcare too little, too late, says Mother Pukka founder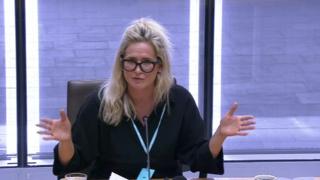 An offer of 30 hours a week free childcare for parents of three and four-year olds is "too little, too late", a campaigner has said.
Anna Whitehouse told AMs that mothers needed help to get back into work straight after maternity leave.
She said by the time children were three, their mothers were already "out of the workforce".
The Welsh Government said families taking part in pilot schemes said it was making it easier for them to work.
Ms Whitehouse - founder of the Mother Pukka blog - campaigns for flexible working conditions as a way to eliminate workplace discrimination.
She told the assembly's equalities committee on Thursday that the Welsh Government's childcare offer was failing to address a key problem in supporting parents after maternity leave.
"Returning to work - that is when you need the support on all levels, sooner," she said.
"At age three, the feedback we get is 'it's too late - I'm out of the workforce, I'm gone'.
"It was a lovely, brilliant, well-intentioned idea, but it's too little, too late."
A 2015 survey by the Equality and Human Rights Commission suggested that 54,000 new mothers were losing their jobs every year across the UK due to workplace discrimination after upon returning from maternity leave, but Ms Whitehouse thought the actual number could be higher.
She said: "And if we do really want to crack down on maternity discrimination… you need to look at that juncture, and that juncture is where women are flooding out of the workforce."
In 2016, a report by the Public Policy Institute for Wales said that increasing free childcare to 30 hours a week would have no "substantial impacts on net income, poverty or work behaviour".
The Welsh Government said it was "committed to providing free childcare for working parents and parents who want to return to work".
"In September 2017, we began piloting our ground-breaking and ambitious childcare offer," a spokesman said, referring to trial schemes in seven local authority areas.
"The feedback received from working parents across Wales demonstrates it is already reducing the strain on family income and helping ensure childcare is not a barrier to them taking up employment or increasing their hours."