Cash for real-time information on 'vital' bus services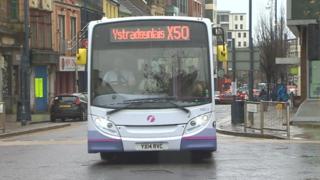 Technology is to be used to improve bus services across Wales, with more services getting real-time information.
Transport Secretary Ken Skates said buses remained "vital to Welsh life", with passengers making around 100 million journeys a year.
About £3.5m will be given to councils to make improvements, including for more on-board "next stop" announcements and real-time information at stops.
He was opening a "bus summit", at Swansea's Liberty Stadium.
Before the talks, Mr Skates said: "Local scheduled bus services are, and will continue to be, the foundation of our public transport system."
As with similar discussions held in Wrexham in 2017, figures from local authorities, bus firms, the Welsh Government as well as passengers representatives will take part.
The money would "help provide tangible results for passengers to enjoy", Mr Skates promised.
"It will speed up the implementation of on-bus audio-visual equipment, including technology to bring on-board 'next stop' announcements," he said.
"It will also make possible improvements to related infrastructure, such as stops, shelters, signs and flags, timetable displays and accessible kerbs."