New south Wales site for 1,700 Work and Pensions staff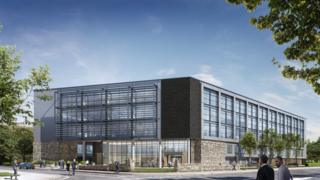 Five UK government offices across south Wales will close with up to 1,700 staff being relocated to a single site.
The Department for Work and Pensions (DWP) said its new base at Treforest, near Pontypridd, would be more cost-effective.
Offices will close in Cardiff, Newport, Merthyr Tydfil, Cwmbran and Caerphilly.
The Public and Commercial Services (PCS) union claimed it would be "devastating" for many affected staff facing longer journeys to work.
The DWP said the opening of the new site in 2021 was part of a modernisation programme and would only involve back-office staff.
It said it would look at alternative roles for employees who were unable to relocate, and stressed that no additional job centres would close.
Work and Pensions Secretary Esther McVey said: "This new space brings talented colleagues together under one roof - harnessing local expertise and promoting closer working relationships that will benefit claimants."
Andrew Morgan, Labour leader of Rhondda Cynon Taf council, hailed the news as "another positive economic boost" for the county borough, already chosen for headquarters by Transport for Wales, Health Improvement Wales and the new Welsh Revenue Authority.
However, the PCS union claimed up to half the staff affected would be unable to move with the work, saying those with disabilities or caring responsibilities would find it hard to travel further.
'Congestion'
PCS Wales Chair Katrine Williams claimed the concentration of civil service work into "huge hubs" was "devastating jobs in local communities across the UK".
"There is no understanding of the public transport issues involved in travelling across the valleys, or the congestion problems," she added.
"Our members have decades of experience in delivering benefits and services to pensioners, the unemployed and sick and disabled claimants.
"DWP management are apparently prepared to throw this expertise away, given that up to half the staff would be unable to move with the work."
Gerald Jones, Labour MP for Merthyr Tydfil and Rhymney, said he would fight to keep the 250 jobs at the DWP office facing closure in his constituency.
"Moving these jobs out of the town centre makes no sense," he said.
"The Welsh Government are continuing to build Merthyr Tydfil as an economic hub in the valleys but the Department of Work and Pensions moving jobs out of the town would weaken that cause."
The DWP said it had been aware of staff concerns, but said the new location was "strategically placed to take full advantage of improvements through the Welsh Government's public transport enhancements".