Unions hit out over Welsh Labour leader election review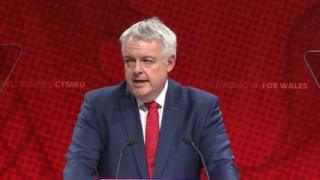 Some of Wales' unions have criticised an attempt to change the way the next Welsh Labour leader will be elected.
The leaders of GMB, Unison, USDAW and the Communication and Workers Union say they will resist any moves to take away the voice of workers.
Welsh Labour is reviewing its procedure amid calls to scrap the system which weighs the vote in equal thirds between unions, MPs and AMs, and party members
Carwyn Jones is to quit as party leader and first minister in the autumn.
Some prominent members want to see the same system in Wales as exists in England and Scotland, where each party member has an equal say.
For leadership contests in Wales, the votes of union members account for a third of the total ballot, another third goes to AMs and MPs, and a third to the membership under the electoral college system.
There has been pressure to move away from this system, not least from Finance Secretary Mark Drakeford, the only declared candidate, so far, for the leadership contest in Wales.
The unions say that an internal party review should be allowed to run its course.
In a joint statement, the unions said: "Whilst we are prepared to look at the make-up and percentage weighting of the existing electoral college, we are not prepared to allow for certain elements within our movement to take away the voice of organised Labour, via their trade unions, in future leadership and deputy leadership elections."