Cardiff Airport government cash 'could be recouped' by 2021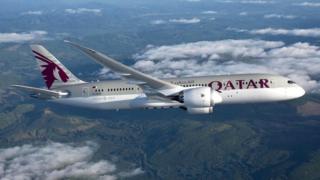 All money invested in Cardiff Airport by the Welsh Government could be recouped by 2021, according to its chairman.
The government bought the airport for £52m in 2013 as it struggled with falling passenger numbers.
But speaking to the assembly's economy committee, Roger Lewis said its own forecasts suggested it could be worth £117m by 2020/2021.
Despite this, Mr Lewis "strongly urged" it to keep hold of the asset.
Two million passengers used the airport in 2007 but by 2012 that figure had halved, prompting the Welsh Government to step in.
Under its stewardship passenger numbers climbed back to 1.5m in 2017.
It is hoped new routes, including one to Doha with Qatar Airways, will help continue the growth.
Mr Lewis told the committee the airport's "organic growth" would see two million using it annually by March 2020.
Based on the airport's own profit forecasts, he said it could potentially be valued between £88m and £117m by the financial year 2020/21.
He said this would mean if the Welsh Government wanted to, it could sell the airport in 2021 and make back all money it has paid.
However, when pressed by Llanelli AM Lee Waters if this would be the sensible course, he said it should keep some control.
"My advice to the Welsh Government would be to retain this asset," he said.
"But to look for equity investment and construct a model that the Welsh Government has the checks, controls and balances to ensure it doesn't have a situation where it encountered last time that the asset was sweated to an extent it was virtually dying."
The airport's latest financial results, for 2016-17, showed a pre-tax loss of £5.97m, an increase on the £4.9m pre-tax loss the previous year.
The Welsh Government has made loans of £10m to improve the terminal and £13m for route development.
In March it put £6m into the airport in exchange for shares in the business.