Brexit bill deal a significant achievement, says Theresa May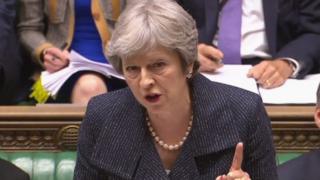 The prime minister has called agreement between the UK and Welsh governments over a long-running Brexit "power-grab" row a "significant achievement".
Theresa May said the deal on changes to her government's EU (Withdrawal) Bill provided "legal certainty" and respects "the devolution settlements".
But she told MPs it was "disappointing" that the Scottish Government had rejected the latest offer.
The agreed amendment was tabled in the House of Lords later.
Under the new proposal, the majority of 64 Welsh Assembly powers currently operated by the European Union in Brussels will transfer to Cardiff after Brexit.
The rest - 24 powers in all - will be held in Westminster for a period of up to seven years so that UK-wide systems can be created for matters such as food labelling.
The deal includes a political agreement - not a legal one - that the UK Government will seek the assembly's consent before changing any of those powers held in London.
During Prime Minister's Questions on Wednesday, Mrs May said: "It's a significant achievement, it will provide legal certainty, increase the powers of the devolved governments and respect the devolution settlements.
"We've made considerable changes to the bill to reflect issues by members and by the devolved administrations.
"It is indeed disappointing that the Scottish Government have not yet felt able to add their agreement to the new amendments and we sincerely hope that they will reconsider their position," she said.
In a statement to AMs, Wales' Finance Secretary Mark Drakeford said the agreement "soundly defends" the Welsh Assembly's powers.
He said the deal "represents very substantial progress on where we were just a few weeks ago" although "the outcome is not perfect".
Mr Drakeford pledged to continue to work with the Scottish Government and UK ministers "to see if any further helpful refinements to the current agreements can be made".
'Imaginative'
Plaid Cymru Leader Leanne Wood was highly critical of the agreement, saying: "Our leverage has gone, leadership lost, and parliament weakened. This is a Labour-Tory stitch-up like no other."
"When he sells this parliament and my country's democracy to Westminster he can excuse my lack of conciliatory tone."
But Conservative AM David Melding said he thought "we're now seeing the fruits of a very imaginative compromise, which will respect the results of the referendum and strengthen the British constitution."
The deal was also welcomed by UKIP Wales Leader Neil Hamilton who congratulated Mr Drakeford "on his achievement and I think it bodes well for the future."
A formal vote on the agreement is expected in the Senedd in May.
With only Plaid Cymru AMs expressing outright criticism, it is highly likely to be passed.