Armed forces commissioner for Wales idea rejected on cost grounds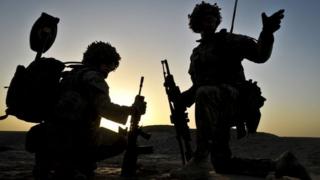 The idea of creating an armed forces commissioner for Wales has been rejected by the Welsh Government.
AMs have claimed that veterans, serving personnel and their families suffer health, housing and work problems.
Public Services Secretary Alun Davies said the estimated budget of half a million pounds a year for such a post would "divert resources from practical services and support".
But Mr Davies pledged to strengthen support and plug any gaps in service.
In Scotland, a veterans commissioner was appointed in 2014 to promote the interests of retired armed forces personnel.
Welsh Conservatives raised the issue of creating an armed forces commissioner in a Senedd debate in 2016 with a wider brief than the Scottish post to include serving personnel and their families.
The party claimed many military veterans suffered from mental health issues, loneliness, welfare or addiction problems, or have trouble finding work or housing.
Tory leader Andrew RT Davies said at the time: "We have a long way to go to redress the disadvantages faced by this section of the community."
No 'further benefit'
The Welsh Government outlined its support for service personnel, their families and veterans during that debate, but in November 2017 Alun Davies said he would examine the idea of creating a commissioner.
In a written statement on Monday, he praised the work of the Welsh Government's armed forces expert group, the appointment of armed forces liaison officers across Wales to support local authorities, and the Veterans Gateway helpline launched by the UK government with its offices near Cardiff.
However, the minister did not think the appointment of a commissioner "would add any further benefit or value".
He said: "The cost of approximately £550k per annum to fund a Commissioner and support staff would divert resources from practical services and support for the Armed Forces community in Wales."
Mr Davies added that he was asking his officials to "strengthen the veterans unit within Welsh Government and to provide me with a further detailed assessment of gaps in service delivery", pledging to find extra money where needed.