Carwyn Jones exit 'does not help Sargeant family'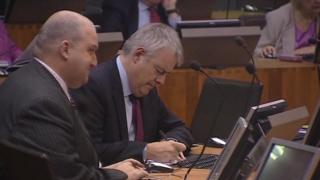 First Minister Carwyn Jones's decision to stand down does not help Carl Sargeant's family, their lawyer has told BBC Wales.
Neil Hudgell said there will be no "closure" until the inquiry into the circumstances around Mr Sargeant's death concludes.
Mr Jones's decision to leave office in the autumn was dramatically announced at Welsh Labour conference on Saturday.
It comes five months after he sacked Mr Sargeant who was found dead days later.
UK Labour leader Jeremy Corbyn paid tribute to Mr Jones when he spoke at the conference in Llandudno, saying the AM for Bridgend is "not done yet".
Mr Jones, who will step down after around nine years in charge, said on Saturday he had been through the "darkest of times".
He sacked the AM for Alyn and Deeside Carl Sargeant last November following allegations of inappropriate conduct towards women.
Mr Jones and his office have been under intense pressure ever since - from Mr Sargeant's family, and from politicians both within Labour and outside.
On Friday, lawyers for Mr Sargeant's son Jack - who succeeded him as AM for Alyn and Deeside - said the family was frustrated by delays to an independent inquiry led by QC Paul Bowen into Mr Jones's handling of the November reshuffle.
They also said Mr Jones's own conduct had caused "considerable distress" to the family.
'Highly critical'
Asked by BBC Radio Wales' Sunday Supplement programme whether Mr Jones's decision to resign helps Carl Sargeant's family, Mr Hudgell said: "Not at all.
"The family completely empathise with the human cost of being involved in high profile office - and the fact that he can go home to his family in the autumn, they are very pleased for the Jones family.
"But they will never get any closure until they get to the end of this journey with Paul Bowen and his investigation, and him being able to have access to all relevant material and all relevant witness, so they can finally understand the events that led up to the tragic loss of their father and husband."
He called for the publication of a report into whether the sacking of Carl Sargeant was leaked - saying it could be redacted if needed.
The Welsh Government has refused to publish the report, warning witnesses would be reluctant to come forward in future if they knew their identities could be disclosed.
"My understanding is that report is going to be highly critical, not only of the handling of the leaks, but of the inquiry and how it is conducted," Mr Hudgell said.
Mr Jones is expected to stay on as a AM after he quits as first minister - meaning no by-election will be triggered.
Welsh Government minister Lord Elis-Thomas, a former Plaid Cymru leader and now independent AM, said it was "appalling" that people inside and outside the Labour Party had been "gunning for" Mr Jones.
He told the BBC's Sunday Politics Wales programme: "What is the point of removing someone who has said that he intends to do a particular period [in office], he was talking about 10 years?
"And then, when the tragic events surrounding Carl Sargeant happened, there was an attempt to pin this on Carwyn.
"And I found that reprehensible, because you cannot say that the hugely difficult, traumatic issue involving a person taking his own life, a politician or anyone else, can be pinned on one other person."
Lord Elis-Thomas refused to say which individuals he was talking about.
"No, I'm not going to pin names on anyone, because I don't want to be doing what they did to Carwyn," he added.
The announcement by Mr Jones overshadowed the controversy that developed on the same day over the Welsh Labour deputy leadership election.
Swansea East MP Carolyn Harris beat Julie Morgan, Cardiff North AM, to win the job despite winning fewer votes than Ms Morgan among the party membership.
Under the terms of the poll's electoral college, the votes of MPs and AMs and groups linked to Labour, including trade unions, outweighed the membership.
Ms Morgan told Sunday Supplement that it is "absolutely essential" that the next leader is chosen on a one-member-one-vote franchise - and she was "fairly confident" that it would happen.
"We don't want the first minister and the leader of Labour to be elected in a way which leaves it open for that person to be elected without having the majority support of the members," she said.
She said she hoped an upcoming democracy review in Labour, due to be debated in Llandudno on Sunday, would set up a commission that "does not have to take a year to report" and that leadership elections should be looked at "straight away".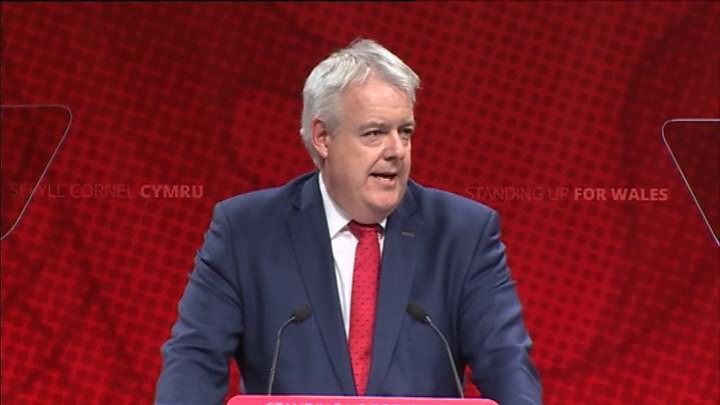 Finance Secretary Mark Drakeford, considered by many to be a front-runner for the job of first minister, said he was giving "serious consideration" to putting himself in the running following Mr Jones's announcement.
Others, including Jeremy Miles, Alun Davies, Vaughan Gething and Huw Irranca-Davies, have declined to rule themselves out.
The first minister told the conference that his departure would give his family, his party and the country a "fresh start".
Referring to his wife and family, Mr Jones told delegates on Saturday: "I don't think anyone can know what the last few months have been like - no one apart from Lisa and the kids.
"They have carried me through the darkest of times. I have asked too much of them at times. It's time for me to think about what's fair to them."