Smacking ban: Carwyn Jones says he smacked his children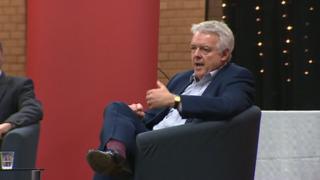 First Minister Carwyn Jones has told an audience in Llanelli that he smacked his children when they were younger.
His government is currently consulting on proposals to ban smacking in Wales.
Mr Jones said society needed to "move on", but a campaign group said his stance was "hypocritical".
A Welsh Government spokeswoman said Mr Jones was speaking about his experience of being a father a decade ago, adding it was now clear that physical punishment of children was ineffective.
Ministers want to remove the defence of reasonable chastisement in the law on common assault under new legislation that would go before AMs for consideration later this year.
They have argued that smacking has no place in a modern society - but campaigners say the move would criminalise ordinary parents.
Speaking at a "Carwyn Connects" public meeting on Thursday, the first minister said: "I'll be honest with you, when my children were younger I did give them the odd smack.
"I'm not going to stand up here and say anything different. I'm not going to pretend to you it was loving.
"It's a loss of temper, to my mind.
"I think we need to move away from that way of disciplining children.
"It's about helping people to discipline children in a way that does not involve physical punishment."
The first minister later added: "I'm not going to accept that it is necessary to physical chastise a child.
"I say that having said that this was something that I did when my kids were younger.
"The same thing happened to me, but it was the norm in the 1970s.
"But I think we need to move on as a society."
'Lecture'
Lowri Turner, from the Be Reasonable Wales anti-smacking ban campaign, said: "It is hypocritical for the first minister to lecture us on why smacking should be criminalised, when he admits that this was a form of discipline that he used himself and he himself was smacked without any adverse effect."
A Welsh Government spokeswoman said: "Speaking to people in Llanelli, the first minister shared his own experiences of being a father to young children over a decade ago.
"As our campaign shows - and as the first minister said last night - our knowledge of how to successfully discipline children has developed over the past ten years, and it is now clear that the physical punishment of children is ineffective and outdated."
The spokeswoman said Mr Jones had made such comments "numerous times".