Commons rule change keeps Monmouth MP top cat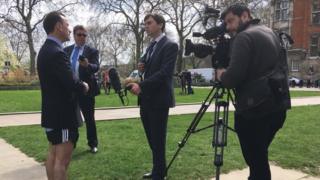 In something of a change for Westminster, MPs have not spent their entire first week back after Easter talking mostly about Brexit.
They've left that to the House of Lords, which inflicted a damaging defeat on Theresa May's government on Wednesday evening, although Attorney General Jeremy Wright was hauled before the Commons to explain why the UK government is taking the Welsh and Scottish governments to the supreme court over Brexit.
Instead, Syria and the Windrush scandal dominated MPs' thoughts and speeches.
In other news, MPs running the London Marathon held a photocall, with Alun Cairns combining that event with a TV interview on Brexit (above). Besides Mr Cairns, Welsh Labour MPs Nick Smith and Chris Evans are also running on Sunday. You can find out why they are running here.
And in other news, as they say, the chair of Westminster's Welsh affairs committee has been granted a reprieve after a change in parliamentary rules that will allow him to keep his job.
Monmouth MP David Davies was due to step down this summer after reaching the term limit for select committee chairs.
Chairs were allowed to serve for eight years or two parliamentary terms. But last year's snap general election after a two-year parliament meant some MPs, including Mr Davies, would have to give up their roles, for which they are paid £15,509 on top of their MPs' salary.
The House of Commons has now agreed a change in its rules to allow chairs to serve for 10 years, giving Mr Davies a two-year stay of execution.
He said the change would be "a bit more equitable" and enable chairs to serve until the end of the Brexit legislation.
"As the first Conservative MP to chair the Welsh affairs select committee I very much look forward to working with members of all parties," he added.
'Investigated'
Those of you who read the Sunday Times will also know that Mr Davies is also under investigation by the parliamentary standards commissioner after holding an event with campaigners opposed to the UK government's planned transgender legislation.
Mr Davies says he is not allowed - to his frustration - to discuss the case in detail but he believes the investigation is "sinister" and "unbelievable".
He is being investigated for an alleged breach of the code of conduct that says MPs are personally responsible that their use of any facilities is in accordance with the rules and "in support of their parliamentary duties". The code of conduct adds: "It should not confer any undue personal or financial benefit on themselves or anyone else, or confer undue advantage on a political organisation."
Mr Davies admits he did host a meeting in the Commons after Millwall Football Club cancelled a booking but denies that activists had to pay to attend - which would have been a breach of the code of conduct and one that would land him in serious hot water.