Cardiff-Swansea electric rail 'not sensible thing to do'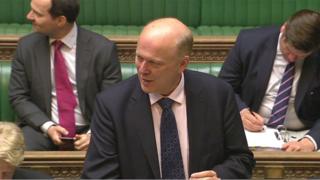 The decision to scrap plans to electrify the rail line between Cardiff and Swansea has been defended by UK Transport Secretary Chris Grayling.
He told MPs spending hundreds of millions of pounds on the project was not "a sensible thing to do".
The minister had been challenged by Plaid Cymru MP Jonathan Edwards.
It emerged in a report by the public spending watchdog in March that the prime minister took the decision to cancel the scheme, announced last July.
Bi-modal trains are now used on the route, able to run on electric from London to Cardiff and then be powered by diesel beyond that point.
During transport questions in the Commons on Thursday, Mr Edwards asked: "Isn't the reality that the British government does not consider the west of my country worthy of investment?"
Mr Grayling said: "The prime minister and I discussed the issue of Cardiff to Swansea at the time and reached a view that spending hundreds of millions of pounds of taxpayers' money - causing massive disruption to passengers - to enable the same trains to travel the same route at the same to the same timetable as is happening today was not actually a sensible thing to do."
He added: "We took the decisions about electrification on the Midland mainline, on Cardiff to Swansea on a simple basis: that spending hundreds of millions of pounds or billions of pounds to achieve the same journey times in the same trains actually was not sensible.
"On the Great Western route, those trains are already in operation, delivering those services to people in Swansea - a great and important investment for people in Swansea."