Tory MP lost his job due to false claims, Theresa May says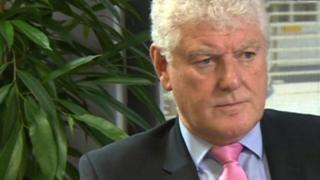 The prime minister has said a Welsh Conservative MP lost his seat at last year's general election because of false allegations on social media.
Swansea café owner Dan Evans has apologised for statements suggesting Gower MP Byron Davies was under investigation for electoral fraud.
Theresa May told the Commons Mr Davies "lost his job" due to the allegations.
But the PM sidestepped a suggestion that Labour victor Tonia Antoniazzi should resign and fight a by-election.
During Prime Minister's Questions on Tuesday, Conservative MP Steve Double said: "The Labour activist Dan Evans is admitting spreading lies and libellous accusations against our former colleague Byron Davies in order to influence the outcome of the election. It appears his efforts worked.
"Does the prime minister believe that the leadership of the Labour Party need to make very clear that our democracy has no place for this sort of behaviour, and does she believe that the honourable thing would be for the new incumbent of that seat to resign and fight a free and honest by-election?"
Mrs May replied: "Our former colleague Byron Davies has received an apology.
"A donation, I understand, has been made to charity but of course our former colleague lost his job as a result of the action that was taken.
"Across this House people will talk about free and fair elections. That's what we believe in as a democracy, but political parties don't need just to talk about free and fair elections. They need to ensure that they put it into practice."
Ms Antoniazzi has accused Mr Davies - now chair of the Welsh Conservatives - of "sour grapes" over the issue.