Carwyn Jones 'told truth' over bullying culture claims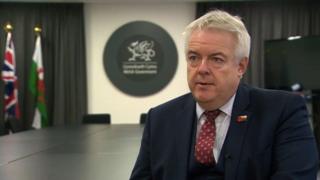 An independent inquiry has cleared the first minister of misleading the assembly over what he knew about past claims of a bullying culture in the Welsh Government.
Carwyn Jones was found to be telling the truth when he told AMs last year that no allegations were made in 2014.
The bullying debate was sparked after ex-communities secretary Carl Sargeant was found dead last November.
He died days after being sacked over claims about his conduct towards women.
Following the death, former local government minister Leighton Andrews and a former special advisor claimed there had been a "toxic" atmosphere within the Welsh Government back in 2014.
Welsh Labour leader Mr Jones told AMs no complaints had been made but was accused by some of giving misleading answers.
He referred himself to an independent inquiry, headed by lawyer James Hamilton, following the allegations.
And on Tuesday, Mr Hamilton published his findings clearing Mr Jones of breaking the ministerial code, saying that the answers given by the first minister in the assembly were "accurate" and "truthful".
The lawyer said there was no evidence of complaints being raised by Alyn and Deeside AM Mr Sargeant, who was sacked from the Welsh Labour cabinet in November after claims about his conduct towards women.
But Mr Hamilton also suggested Mr Andrews had not made any complaints himself that could be "properly described as bullying".
Mr Hamilton, a former prosecutor, added he found no evidence before 11 November 2014 of any reports or allegations of bullying by special or specialist policy advisers.
"There were allegations made subsequently that there had been a toxic atmosphere or bullying culture in the ministerial floor of Ty Hywel in 2014," he said.
"I did not find convincing evidence that this was the case."
"The late Mr Sargeant is known to have had a discussion over a drink with the first minister in October 2014, but it was the first minister's evidence that no concerns of bullying were raised with him at meeting," he said.
"There is no evidence of complaints being raised by Mr Sargeant at any other time."
Mr Hamilton added that he did not "consider the first minister to have misled the assembly when he said on 14 November 2017 that all issues had been dealt with".
"Consequently, my conclusion is that, since the answers given by the first minister on 11 November 2014 and 14 November 2017 were accurate and truthful, and not misleading, the first minister did not breach the ministerial code," he said.
The code is the set of rules ministers are expected to abide by.
Mr Hamilton heard evidence that Mr Andrews, current Rural Affairs Secretary Lesley Griffiths and Mr Sargeant had been concerned about the behaviour of a politically appointed "special/specialist adviser".
Ms Griffiths told Mr Hamilton that she did feel "bullied at times by the way in which she said a particular special adviser sometimes operated", the report said.
"Her concerns related principally to what she saw as a denial of access to the first minister and to feeling undermined in her work such through the questioning of her diary commitments," Mr Hamilton wrote, but added that she did not raise her concerns with Mr Jones.
The report also said Mr Andrews had taken a letter setting out complaints to a meeting with Mr Jones, but did not hand it to the first minister.
"Mr Andrews failure to hand over that letter is difficult to understand in the light of his present claim that the first minister had misled the assembly just one week before that meeting," he said.
The report also cites a special adviser who made allegations of a toxic environment at the top of Welsh Government - but said the individual declined to participate in the investigation.
Mr Andrews said the inquiry was "flawed from the beginning" and was the "expected whitewash".
"It is partial, inconsistent, and ignores evidence from a number of witnesses. The Hamilton Inquiry was flawed from the beginning," he added.
"This was not an inquiry into bullying, as Mr Hamilton himself says - it was a narrowly-drawn inquiry into whether or not the first minister misled the assembly on two named dates."
The Hamilton inquiry was one of three triggered following Mr Sargeant's death.
Tuesday's inquiry result came after Mr Jones threatened the assembly with court action over an attempt by the Welsh Conservatives to force the publication of an inquiry report into whether details of Mr Sargeant's sacking were leaked before a cabinet reshuffle.
Welsh Conservative leader Andrew RT Davies said: "We welcome the release of Mr Hamilton's report which sets an important precedent, particularly in light of the ongoing threat of legal action by the First Minister, Carwyn Jones, to prevent publication of a similar report produced at the conclusion of the recent leak inquiry.
"Any continuation to frustrate its publication can only lead to more unhelpful speculation regarding the process and its contents and we would now expect the Welsh Labour Government to publish the leak inquiry report without delay."