Let abortion pills be taken at home, say Welsh ministers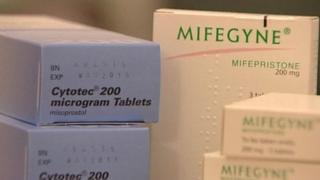 Women should be allowed to take abortion pills at home, the Welsh Government has said.
It is currently illegal to do so, meaning the course of two pills three days apart has to be taken in a clinic.
Health Secretary Vaughan Gething said his officials were looking at how the law could be amended to allow treatment for abortions at home.
Labour AM Jenny Rathbone welcomed the move saying it was "strongly supported" by health professionals.
Scottish ministers enacted a similar change last year.
More than three out of four abortions in Wales - 77.8% - are medical rather than surgical procedures.
A medical abortion is only available in the first nine weeks of pregnancy, and involves taking two different medicines within 72 hours of each other.
The change would mean women would get both medicines at the same consultation and would be able to take the second tablet, Misoprostol, which induces miscarriage, in their own home, rather than having to travel back to a clinic to take it.
Mr Gething told AMs: "I have instructed officials to start work immediately on how we can amend the legal framework to allow for the treatment of the termination of pregnancy to be carried out at home."
He added: "My officials will now work with stakeholders to develop a fully-costed and timetabled implementation plan."
Ms Rathbone, AM for Cardiff Central said she was delighted by the decision.
"This is strongly supported by health professionals working in sexual health services," she said.