Ex-Tory MP gets apology over false fraud investigation claim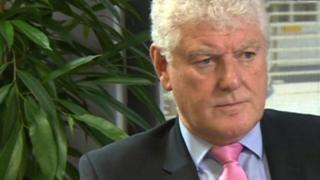 A former Tory MP has received an apology and "substantial damages" after a voter in a neighbouring constituency wrongly accused him of being under investigation for electoral fraud.
Byron Davies was defeated in Gower by Labour's Tonia Antoniazzi in the 2017 general election.
During the campaign, film maker and Mumbles café owner Dan Evans claimed Mr Davies was under investigation.
Mr Davies said the allegation "influenced voting intentions".
In a post on his Twitter account which he asked others to retweet, Mr Evans said: "I made defamatory statements about Byron Davies during last year's general election.
"I wanted him to lose and tweeted saying he was under investigation for electoral fraud.
"This was untrue and I'm really sorry for my actions. I'd urge others not to repeat my unacceptable conduct."
In addition to the apology, it is understood Mr Evans will also make a "substantial contribution" to a charity chosen by the former MP.
Mr Davies, who is now Welsh Conservative chairman, told BBC Wales he had "a list" of others who made similar allegations.
He said: "This is a lesson to those who want to attack and circumnavigate the democratic process. False news; it is a costly business which they end up having to face."
Asked for a response by BBC Wales, Mr Evans said he was not allowed to comment.