Attacks on Syria as legal as Kosovo campaign, Lord Morris says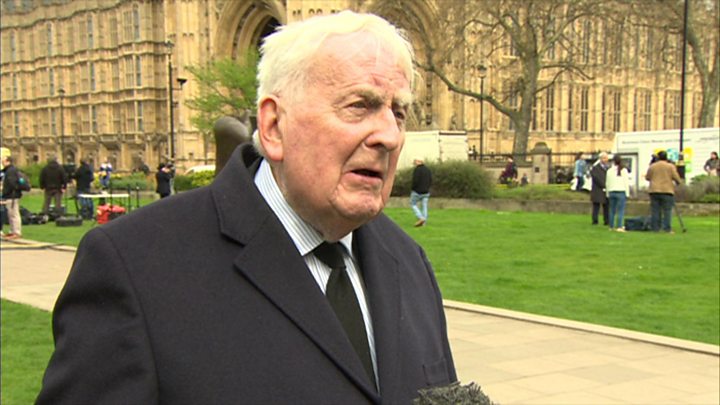 A former Labour minister who approved bombing over Kosovo has suggested air strikes on Syria are legal.
It comes as Theresa May faces questions from MPs later, as opposition parties claim they should have been consulted.
Lord Morris of Aberavon - attorney general under Tony Blair - said it was "broadly on the same legal basis" as NATO's 68-day Kosovo campaign in 1999.
He said those had been in response to "an overwhelmingly humanitarian disaster" in the former Yugoslavia.
Mrs May is due to give a Commons statement on Monday at about 15:30 BST and take questions from MPs.
She is also expected to ask the Speaker for permission to hold an emergency debate in Parliament on the issue of Syria.
Suspected chemical weapons sites near Damascus and Homs were hit by US, UK and French forces on Saturday in response to the alleged chemical attack on Douma on 7 April.
Syria, which denies any chemical use, and Russia, which provides military support to the Syrian government, have both reacted angrily to the action.
Senior Labour figures including party leader Jeremy Corbyn have questioned the legality of the attacks, but Wales' Labour first minister Carwyn Jones offered his support "to any intervention that could prevent a further atrocity".
However, Mr Jones stressed his view that it was "vital that any action forms part of a wider long-term plan for the region".
Lord Morris said: "As the Attorney General who gave the legal authority to the 68 days of bombing in Kosovo in 1999 on the grounds that it was an overwhelmingly humanitarian disaster, I was developing the law based on what was done by my predecessors in Iraq 1 [the first Gulf War] and for the Kurds and the Marsh Arabs.
"The actions of the Government are broadly on the same legal basis," he added.
"At the time of Kosovo, I said there cannot be a legal certainty about our actions but I was satisfied that there was an argument for our forces to act safely.
"Nine other NATO countries did the same and we were all sued by Yugoslavia in the International Court at The Hague where I was the leading counsel for the UK.
"To my deep regret, the court did not make a ruling on the legal position."