UKIP AM Gareth Bennett spent £10k on unopened office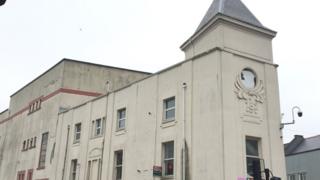 An assembly member has spent almost £10,000 of taxpayers' money in rent and other costs for a constituency office that never opened.
The assembly commission said it was working to recover some of the money spent on Gareth Bennett's aborted constituency office in Pontypridd.
The UKIP AM blamed issues with the landlord for why the project was unsuccessful.
His spokesman said he paid £4,500 from his own pocket to terminate the lease.
Costs recorded on the assembly's expenses log included more than £5,128 in rent and at least £1,556 in legal expenses.
At least £2,476 for building materials was also incurred. A spokesman for Mr Bennett said some materials were purchased to bring the premises up to the required security standards, and for minor decoration work.
When other costs, including a deposit, are included the expenses log lists costs of at least £9,972 for the constituency office.
Mr Bennett signed a lease on a property at the former Angharad's nightclub on the town's High Street on 24 March 2017.
But his spokesman said water got into the building and his team were unable to move in.
The spokesman claimed the landlord refused to undertake any repairs, stating it was the tenant's responsibility. However, Mr Bennett's staff had not moved in at that point.
'Highly regrettable'
The lease was due to last until April 2021, at the end of the fifth assembly term, but it was terminated early on 18 September 2017.
Mr Bennett will instead have an office at the Senedd in Cardiff Bay, which his spokesman said would be "saving money in the long run".
He added: "The fact that we were unable to open the office is of course highly regrettable, but it was an unfortunate set of circumstances.
"Gareth ended up paying £4,500 out of his own pocket to ensure the lease was terminated."
An assembly commission spokesman said it was satisfied all submissions of expenses for the office were valid and accounted for.
He added the Members' Business Support team were helping to recover some costs as a result of the early termination of the lease.
After further questions from BBC Wales, a spokesman added: "Should the assembly's chief executive have any concerns that use of public money has contravened the members' code of conduct, she is required to refer the matter to the assembly's independent standards commissioner for investigation."
The assembly spokesman declined to elaborate on whether such a referral had been made or not.
A spokesman for Mr Bennett said the standards commissioner was not currently considering a formal complaint, and said he did not know what costs were being recovered by the assembly.
BBC Wales was unable to contact the landlord involved. Mr Bennett's spokesman declined to pass on their details.