'Live donors' urged to give organs to cut waiting times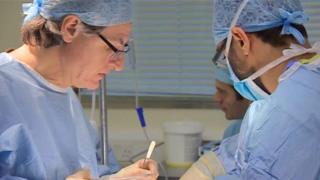 People have been urged to donate organs while they are still alive to help people waiting on transplant lists.
Donna Turner-Kot from Maesteg, Bridgend county, gave a kidney to her father and said risks were "no greater than having your tonsils or appendix out".
In 2015, a system of presumed consent was introduced in Wales for the use of organs after people die.
But in 2017/18, 31 people became live donors. However, 5,000 people are waiting for a new kidney in the UK.
Health Secretary Vaughan Gething said donating could "transform lives", adding: "Often, living donors are close relatives or friends but you can still donate an organ to someone you do not know."
Part of a liver, a segment of a lung and part of the small bowel can also be given to someone else.
Donna Turner-Kot donated to her father in 2011 after he suffered kidney failure.
"People say it's a huge decision, but anyone in my situation would have done the same," she told BBC Radio Wales' Good Morning Wales programme.
Ms Turner-Kot described her father being on home dialysis four times a day, and said the decision was based on "giving him back a quality of life".
She added: "The risks are minimal and you get a thorough annual check-up every year. I've been fine ever since."