Syria air strikes prompt Carwyn Jones' long-term plan call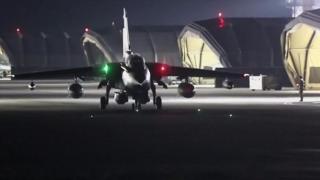 Leading Welsh Labour figures have given qualified support to the UK's decision to join the US and France in launching air strikes on suspected chemical weapons facilities in Syria.
Prime Minister Theresa May said it was "right and legal" to take action.
First Minister Carwyn Jones said it was "vital" any action formed part of a wider long-term plan for the region.
But Plaid Cymru leader Leanne Wood called the strikes "reckless", putting UK security and innocent lives at risk.
Military bases near the capital Damascus and the city of Homs were targeted after an alleged chemical attack on the Syrian town of Douma.
Syrian state media said there had been a "violation of international law".
Speaking in Downing Street, Mrs May said the "limited and targeted strikes" had degraded the Bashar al-Assad regime's ability to use chemical weapons.
"This collective action sends a clear message that the international community will not stand by and tolerate the use of chemical weapons," she added.
She also said she would make a statement to Parliament on Monday and give MPs a chance to ask questions.
Mr Jones said: "I spoke with the PM late last night about the action in Syria.
"I offered my support to any intervention that could prevent a further atrocity, but it is vital that any action forms part of a wider long-term plan for the region.
"I have urged the prime minister to do all she can to avoid civilian casualties given the complicated picture on the ground in Syria and she has given me assurances in that regard.
"Our thoughts today are with our service personnel and the people of Syria who have endured beyond all measure."
Llanelli MP Nia Griffith - Labour's shadow defence secretary - said she was "pleased that all those involved in operation are back safe, appreciate their immense bravery and professionalism, but Parliament should have been consulted and we must now get a wider strategy on Syria from government and allies".
However, a number of Labour MPs were more critical of the action taken, echoing party leader Jeremy Corbyn who said the air strikes were "legally questionable".
Cardiff Central MP Jo Stevens said she believed the air strikes were illegal under international law, adding: "We cannot, with any credibility, then criticise other countries that act illegally."
Rhondda MP Chris Bryant said he was "angered that the PM chose to proceed with air strikes without going to Parliament. We are a democracy. Or should be."
Cardiff West MP Kevin Brennan also said parliamentary approval should have been sought, while his constituency chairman David Llewellyn Davies went as far as rejecting the first minister's qualified support for air strikes.
"Based on the views expressed at our full CLP [constituency Labour party] meeting last night this is categorically not the position of the Labour membership," he said on Twitter.
"There was universal revulsion at the use of force and particularly without the consent of Parliament."
Plaid Cymru leader Leanne Wood tweeted: "The bombing raids in Syria took place with neither Parliamentary or UN consent, risking both the lives of civilians and a possible escalation that could put our security as well as the lives of innocent people at risk. The UK government is being reckless."
MP Liz Saville Roberts, Plaid's leader in Parliament, accused the prime minister of showing "complete disregard towards democracy", adding: "This tokenistic action will do little to allay the human suffering on the ground in Syria nor to bring stability to the region."
Welsh Liberal Democrat leader Jane Dodds - attending her party's Welsh conference in Cardiff - said she felt "ashamed" Parliament had not been offered a vote on air strikes against the Syrian regime as it had been in 2013, when her party was part of the coalition government.
Welsh Conservative leader Andrew RT Davies said: "Appropriate action has been taken by the UK and our allies to degrade the ability of the Syrian regime to use chemical weapons and by doing so prevents further horrific and horrendous attacks."