Welsh Liberal Democrats vow to tackle loneliness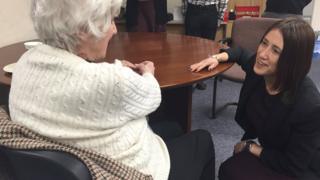 The Welsh Liberal Democrat leader Jane Dodds has vowed to tackle an "epidemic" of loneliness.
Ms Dodds will lead her first spring conference on Saturday since taking the helm of the party.
She estimated that half a million people in Wales say they are lonely, and said no-one should be forced to feel isolated.
The Lib Dems wanted to hear ideas on how to tackle the problem, she told BBC Wales.
Ms Dodds took over as the party's Welsh leader in 2017, after Mark Williams - the previous leader and the party's only MP in Wales - lost his seat at the 2017 general election.
On Friday, the she visited Age Connects in Cardiff, which provides services for older people.
"Loneliness is a serious issue, with half a million people across Wales reporting feeling lonely," Ms Dodds said.
"No-one should be forced to feel isolated and alone."
Ms Dodds said the party was in "listening mode" and wanted to start a conversation on the issue.
She said it was not just older people who were affected.
"It is people who are single parents, people who have mental health difficulties (and) people who have experienced some kind of isolation away from their families.
"We've got a number of things playing in here which has left us with this issue - families are more socially mobile and therefore are moving away. We've seen cuts in services, particularly things like day centres for older people. We've seen mental health service cuts."
The Welsh Liberal Democrat conference takes place at Cardiff's Village Hotel on Saturday.