Unite Julie Morgan row suspensions disturbing, says Labour AM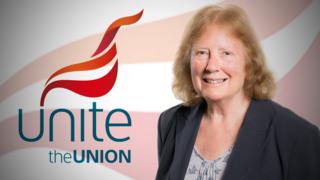 The Unite union is trying to "railroad" its membership into backing Carolyn Harris for Welsh Labour deputy leader, an AM has said.
Labour's Jenny Rathbone said it was "disturbing" that the union was investigating some of its members for appearing in a video backing Ms Harris' rival, Julie Morgan.
She said Unite members should have been asked before Unite backed Ms Harris.
The union said members could support whoever they want.
"I'm fed up with my union trying to railroad the membership into backing another candidate," Ms Rathbone told BBC Wales.
Three members of the union have had their credentials suspended, meaning they could no longer represent the union as officials, after they appeared in a video posted on social media where Unite members explain their support for Julie Morgan.
In a letter Andy Richards, Unite's Wales secretary, had accused the members of allowing themselves to appear in a video used by an "outside organisation which publicly voiced support for a candidate in an election who is opposing a Unite supported candidate".
Unite Wales has endorsed Carolyn Harris for the deputy leadership election, which is being conducted under a electoral college where unions get a vote and are weighed equally with those of party members, and elected MPs and AMs.
While Unite members are themselves being balloted for what Unite's vote should be, the endorsement means union resources can be spent on backing Carolyn Harris.
Ms Rathbone, who is supporting Julie Morgan and is a unite member, told BBC Wales: "I think its very unfortunate that a decision was made by a small group of people inside Unite, apparently, not to back Julie Morgan who is a very long standing member of Unite, and that this was never discussed with the membership."
She called Mr Richards' actions "high-handed", saying she was "very unhappy with the way that Andy Richards manages things".
"The idea that he is suspending people who are unpaid officials of the union, because they backed the candidate that he doesn't choose to back, seems completely undemocratic and [is] why we need to have strong reservations about this electoral college whilst we have unions that act in this way."
She said the UK union "ought to look at the way the Welsh Unite is being run and to whether it meets the standards required in a democracy".
"The union belongs to its membership, not its paid officials."
'Free to support'
Unite said that Carolyn Harris was chosen by its panel of elected representatives from Wales.
A Unite spokesman said: "Unite will not be commenting on any internal investigations, but would stress that Unite members are free to support and vote for whichever candidate they choose.
"In the case of the deputy leadership contest for Welsh Labour the votes of Unite members will be allocated to each of the candidates along with those from other unions in the trade union and affiliated society section of the electoral college system which is being used by the Wales Labour Party.
"Unite follows a process of who the union supports in selections and leadership contests which is agreed by Unite's executive council.
"This process is led by elected representatives from the region or nation concerned and has been followed in all of the seats and contests where Unite has supported a candidate."