Carl Sargeant death 'could deter bullying complaints'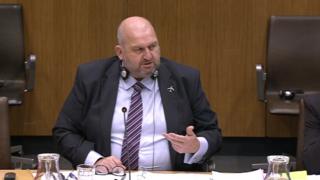 There is a danger people in Wales feel more afraid to raise allegations of bullying and harassment after the death of Carl Sargeant, a Welsh Labour deputy leadership candidate has warned.
Julie Morgan said she worried people "may feel afraid to say anything because of the consequences".
Her rival for the role, Carolyn Harris, said it would be "tragic" if that was the case.
They were speaking on a special edition of ITV Wales' Sharp End programme.
Asked by presenter Adrian Masters if "what has happened in the wake of the death of Carl Sargeant" was deterring people from raising allegations of bullying and harassment, Cardiff North AM Julie Morgan said: "I think there's a danger that that may be the case.
"Because obviously we are all heartbroken about what happened to Carl.
"And I really worry that people may feel afraid to say anything because of the consequences.
"I don't know whether it's happened, I'm fearful that it might have happened but I don't know.
"But really I think we have to wait until these investigations take place about what happened and then decide after that what we do."
Responding first to the question of whether people could be deterred from making complaints, Swansea East MP Carolyn Harris said: "That would be tragic if that's the case.
"Because if anybody feels that they have been subjected to any unwanted attention or any unwanted bullying or whatever you have to be able to feel comfortable in speaking out.
"And this is why I say, it's so important that everybody is protected.
"The accused perpetrators and the victims."
Carl Sargeant was sacked as a Welsh Government minister and suspended by Labour in November following allegations from women of "unwanted attention, inappropriate touching or groping".
He denied the claims and was found dead four days later, it is thought he took his own life.
Last week, the first minister said there has been a reaction against women who have spoken out about sexual harassment.
In a speech on International Women's Day Carwyn Jones said: "I have seen what the backlash looks like.
"It is ugly.
"I have witnessed campaigns and conspiracy theories, victim blaming and vile treatment towards women who choose to speak out."