UK government 'not closing the door' on Swansea lagoon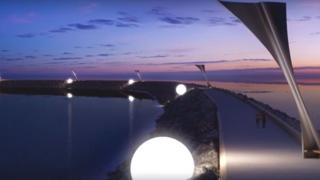 The UK government does not want to "close the door" on the Swansea tidal lagoon, Business Secretary Greg Clark has told MPs.
He said the project must be affordable for consumers and that he was in talks with the Welsh Government.
In January the Welsh Government offered the project "substantial investment".
It was reported last month that the developer had revised its offer so the cost to UK government would be the same as Hinckley nuclear power station.
The price to be paid for power from the scheme, which is being developed by Tidal Lagoon Power (TLP) company is the key sticking point.
A UK government-commissioned report published in January 2017 said the scheme should get the go-ahead but ministers are still considering their decision.
TLP had previously asked for a 90-year contract with the UK government with an average strike price of £89.90 per megawatt hour. The new nuclear power station at Hinkley Point C in Somerset was given a strike price of £92.50/MWh for 35 years.
In the Commons on Tuesday, Ynys Mon Labour MP Albert Owen had urged Mr Clark to make a decision to help "maximise our potential" in marine energy and spread prosperity to Wales.
"The particular Swansea proposal was very much more expensive, more than twice as expensive as the Hinkley nuclear power station, for example," Mr Clark said
"But we are in discussions with our colleagues in the Welsh Government. I don't want to close the door on something if it is possible to find a way to justify it as being affordable to consumers."
Mr Clark said First Minister Carwyn Jones had acknowledged "genuine challenges" facing the Swansea scheme.
"The First Minister wrote to me yesterday and acknowledged the - as he put it - genuine challenges considering a proposal with untried technology with high capital costs and significant uncertainties.
"That's why I think the best way is to explore all of the possibilities, to recognise the constraints. That's what I've committed to do with colleagues in the Welsh Government."
A spokeswoman for TLP said: "At a time when Welsh Government has offered to share the start-up costs and get the sector up and running, you'd hope UK Government can look forwards to the deal structure now possible."