Pembrokeshire agrees 12.5% council tax increase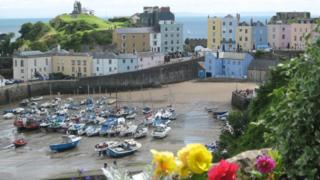 Pembrokeshire council has approved a 12.5% rise in council tax as it seeks to plug a £16m funding gap.
Councillors had been asked to consider a council tax increase of either 5%, 8% or 12.5%.
It is the first double-digit increase in the tax agreed by a Welsh council since 2004, but the authority says it still has the lowest tax in Wales.
The increase is almost double the 6.7% increase confirmed by councillors in Flintshire last month.
Cabinet member for finance Bob Kilmister urged Pembrokeshire councillors to approve a 12.5% increase, saying: "Our job isn't to be popular, it's to do what's right."
He went on to describe the council's financial situation as "critical", saying: "We must make progress".
The vote was passed by 40 votes to 18.
After the meeting, council leader David Simpson said the independent-led authority "will still have the lowest council tax in Wales and indeed the third lowest in all of England and Wales".
"By voting through this rise, elected members have enabled the authority to close a critical £16m funding gap and therefore protect from cuts essential services such as education and social care," he said.
Mr Simpson added that Pembrokeshire remained one of the leanest and most productive local authorities in Wales, delivering services at "£14.8m less than the Welsh Government say we should".