Ex-minister Leighton Andrews was accused of 'bullying tone'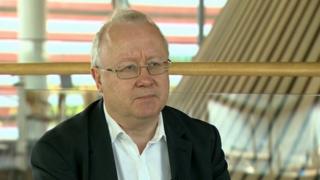 An ex-minister who made claims of bullying within the Welsh Government was accused of using "threatening rants" when he was in cabinet.
A letter seen by BBC Wales to the first minister in May 2013 complained about Leighton Andrews' conduct as education minister.
It concerns a meeting with education chiefs about the future of the WJEC exam board.
Mr Andrews said there was a "deeply malicious" campaign to undermine him.
The former cabinet minister has claimed there was a "toxic" culture of "minor bullying" within the Welsh Government between 2011-2016.
He made the allegations in the aftermath of the death of the former Welsh Labour minister Carl Sargeant.
Mr Sargeant was sacked as communities secretary following complaints about his behaviour towards women and is believed to have taken his own life.
The letter of complaint about Mr Andrews' behaviour in a meeting has been seen by BBC Wales.
David Lewis, acting chair of the WJEC at the time, writes Mr Andrews launched into a "vitriolic and personal attack on the WJEC CEO, Mr Gareth Pierce".
"It was embarrassing for its obvious personal bullying tone. He belittled the CEO in front of his staff and the directors.
"When he finished his rant I put forward the view that there was little prospect for partnership working between us if he continued with the approach we had just witnessed.... It was disgracefully destructive."
Mr Lewis, who was also a Labour councillor and held the education portfolio on Neath Port Talbot Council, then wrote that directors of the WJEC made comments on the issues raised by Mr Andrews.
He went on to write: "The minister, in following up to those comments responded with even more threatening rants.
"On two occasions, I had to ask him to use a more appropriate tone and language.
"The 'discussions' lasted for less than 45 minutes of the allotted one hour.
"[Leighton Andrews] behaviour was appalling and not that expected of government minister.
"After the meeting words like 'thug' and 'bully' were on the lips of many board colleagues who had witnessed his performance."
It has also come to light that an official in the Welsh Government raised a concern about the conduct of Mr Andrews during a meeting with officials in November 2014.
In a response to a Freedom of Information request the Welsh Government said "the meeting was held to discuss amendments to a bill".
"The director of governance discussed the matter informally with Mr Andrews," the response reads.
"No further action was taken and the matter was considered to be resolved.
"The matter was not raised with the first minister, who was first made aware of this matter in January 2018."
'Desperate trawl'
Responding to the allegations Mr Andrews said: "There is a deliberate campaign to undermine me and others who have spoken up in support of Carl Sargeant.
"It is deeply malicious and yet more evidence of the bullying culture practiced by certain people within the Welsh Government and their friends outside the Welsh Government over recent years, Carl was a target of this, and so were other ministers, including some still serving in government.
"I warned two weeks ago that further attacks on me were being prepared.
"There has been a desperate trawl to find ways to undermine my reputation.
"People have told me that the individual coordinating the attacks on me and others has close links to Welsh Labour and the Welsh Government.
"The re-cycling of councillor Lewis's complaints from five years ago is laughable.
"I responded to Councillor Lewis's complaints in a BBC television interview in August 2013 which is still available on the BBC website.
"I reject councillor Lewis's account and I stand by my actions at the time which led to the creation of Qualifications Wales."