Talks for new Welsh income tax to fund elderly care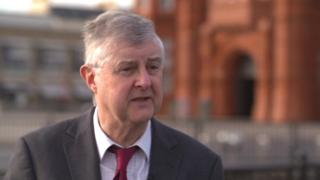 A new tax on people's income to fund elderly care may be an idea "whose time has come", Finance Secretary Mark Drakeford has said.
He told the BBC Wales Live programme he is discussing with the Treasury a compulsory insurance system for Wales.
But he said several "complexities" would need to be resolved if the idea was to become a reality.
Economist Gerry Holtham will submit a report to Welsh ministers next month outlining how the system could work.
Prof Holtham has previously suggested contributions would vary by age, with older workers paying a bigger proportion of their income.
He says a contribution averaging 1.5% "across the age cohorts" would mean the average wage earner paying "somewhere between £250 and £300 a year".
The money would go into a fund dedicated to elderly social care.
Mr Drakeford said Wales' ageing population meant there was an "obligation" on government to think of ways in which social care will be provided in the future.
Research by the Wales Public Services 2025 think tank has found spending on social services for over-65s by Welsh councils would need to increase by 18% (£101m) over the next decade just to maintain the current level of spending per-person.
Mr Drakeford said Prof Holtham's idea "tracks back to the very founding principles of national insurance" but acknowledged work would need to be done to persuade people the idea was a good one.
"First of all I think people would need a cast iron guarantee that the money that was being paid in would stay in a fund for that purpose, that governments in future years couldn't look at that fund and say 'oh that would be handy, we'll spend it on something else', he said.
"So if we were to persuade people they would really need to know that the contributions they would be making would be there for them when they needed them.
"Secondly I think there is work to be done in fleshing out the sort of purposes that that fund could be used for, and I don't think it would be enough to say that all we would be doing would be to buy more of the sort of services that we have today.
"I think people's expectations will be different in years to come, they will want other sorts of services.
"They will particularly want things that will allow them to continue to live independent lives in their own homes for as long as they possibly can.
"So there is work to be done in fleshing out what the fund would actually pay for, what sort of services you would get for it.
"And I think if that is attractive enough to people then maybe we will be able to persuade them paying in for something would be worthwhile because they will be attracted by what they could get out."
'Experimental'
He also said there would have to be negotiations with the UK government about how the fund would operate.
But an initial conversation with Chief Secretary to the Treasury Liz Truss left him with the impression the UK government may be interested in Wales carrying out "experimental work" as the funding of social care is such a difficult issue for all governments.