Backlash fear if cars are curbed, warns Sustrans Cymru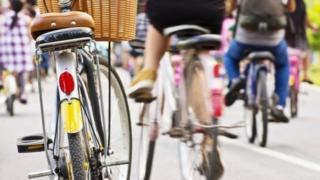 Highways engineers remain primarily focused on "moving cars around", five years after a law to encourage walking and cycling was passed, a charity has told assembly members.
Ryland Jones from Sustrans Cymru said engineers feared a "huge public backlash" if they "mitigate motor traffic in any way".
He was giving the economy committee his views on the 2013 Active Travel Act.
In February, Welsh ministers announced £8m to help boost walking and cycling.
In written evidence to the committee Sustrans said the implementation of the act had "failed to deliver the level of ambition originally promised", urging the Welsh Government to tackle "Wales' overreliance on the car".
The charity called on ministers to offer "appropriate political leadership and funding" and boost the "capacity and capability of professionals to deliver".
Mr Jones told AMs: "There's still a lot of resistance amongst traditional highways engineers, I think, in terms of doing anything that affects traffic capacity and flow.
"I think there's a perception that that they feel that there will be a huge public backlash if they do anything to mitigate motor traffic in any way.
"Things like putting in signalised crossings for cyclists and walkers and so on can be seen as being adversarial to that flow as opposed to being beneficial to the wider network.
"I think this is clearly about what we want the hierarchy of our movement around particularly cities to be.
"Do we want to maximise it for people on a human level, walking and cycling, or do we want to do it for cars?"
Mr Jones said it was clear that "the mind set of engineers is still very much in the idea that they're basically about moving cars around, first and foremost, and then trying to fit in active travel around that".
He called on ministers to "drive the agenda" and "bring forward some priority schemes".
Rachel Maycock from Living Streets, a charity that promotes walking, told AMs the current approach was "all motherhood and apple pie" with "no road map to success".
Targets and "long term funding" were essential, she said.
Last month, Economy and Transport Secretary Ken Skates said 54 schemes promoting walking, cycling and road safety would receive a share of £8m to help build "physical activity into everyday lives and driving associated health and well being improvements".