Endometriosis waits 'too long' as women left in pain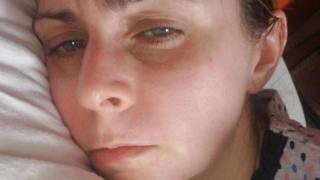 Women suffering from endometriosis are waiting more than a year for surgery which is "too long", a consultant said.
The painful disease is caused by cells growing outside the lining of the womb and affects one in ten women of reproductive age.
While the Welsh Government has a 36 week referral to treatment target, women who need surgery are waiting up to a year.
A task and finish group is due to report on how this can be improved.
Consultant obstetrician and gynaecologist Richard Penketh is leading that group and told BBC Radio Wales' Eye on Wales programme the timeframe is "undoubtedly too long".
The disease is as common as asthma and can cause extreme pain, bladder and bowel problems and even infertility.
More BBC stories about endometriosis:
Women with complex and deep endometriosis often need surgery, which the National Institute for Health and Care Excellence recommends should be carried out at an endometriosis centre.
These have specialists, including a gynaecologist, bowel surgeon, urologist, nurse practitioner and pain management expert.
However, there is only one in Wales at Cardiff's University Hospital Wales.
Patients in north Wales who need surgery can also be referred to the endometriosis centre at Arrowe Park Hospital in Liverpool.
Melissa Bevan, a teacher, 37, from Bridgend, is unable to work because of endometriosis and plans to see a private consultant as she does not want to wait a year for surgery.
"The pain is so bad - in my back and my pelvis and I just feel useless. I can't do anything. I can't look after my children. It makes me feel really sad," she said.
Cardiff-based Mr Penketh said: "Women should be seen before 36 weeks and we're improving the waiting times so that they're getting seen much earlier in that pathway now.
"But if they need surgery, particularly if it's complex surgery where a bowel specialist is needed to operate with us, then we're not meeting the 36 week target. It's nearer to a year.
"It's undoubtedly too long."
The group he leads will deliver its findings on improving times by the end of the month.
A Welsh Government spokesman said: "The Endometriosis Task and Finish Group is developing a recommendations report which will take account of all aspects of care for women with the condition.
"It would be inappropriate to comment on the content of the report until it has been produced and considered by the Welsh Government."
Eye On Wales broadcasts at 18:30 GMT on Wednesday on BBC Radio Wales.