New local council shake-up proposals being considered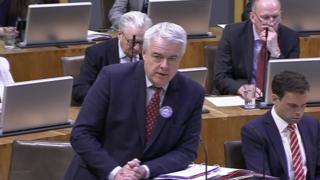 Plans to reorganise local government structure have been discussed by the Welsh cabinet, BBC Wales understands.
The discussions included whether to significantly cut the number of councils from the current 22.
There was no formal agreement and further talks are expected.
The Welsh Government is not setting out a specific timescale for any announcement, but one source suggested new plans could be set out within weeks, rather than months.
There was said to have been a "thorough" discussion among cabinet members, but nothing was resolved in terms of deciding what number of councils there should be in future.
Welsh ministers dropped controversial merger plans to cut the number of council in Wales to eight or nine in 2016 after strong opposition from local authority leaders.
When he was asked about the Welsh Government's plans for local government reform during First Minister's Questions, a few hours after the cabinet meeting, Carwyn Jones said proposals would be set out "in due course".
"The situation has not changed as regards the way forward," he said.
"What everybody accepts, I am sure, is that we must consider the way in which local government works.
"Nobody is arguing that the current structure is one that works well and of course we want to work with other parties to ensure that the structure is more sustainable ultimately."
'Hectoring'
Last week, Local Government Secretary Alun Davies confirmed a key part of the Welsh Government reform of councils was being scrapped.
He told assembly members he would not force them to work together on a regional basis.
The condition was a central feature of the changes proposed by his predecessor Mark Drakeford, who said it was part of the bargain for the 22 Welsh councils continuing to exist.
Last month, Alun Davies said nobody in local government would argue that 22 was the right number and the debate had gone on too long.
He also said the Welsh Government should apologise to local councils for "hectoring" them in the past.