Trump trade row: Steel tariffs a 'bleak lesson' post-Brexit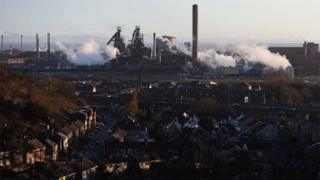 Plans by US President Donald Trump to impose high taxes on steel imports are a "bleak lesson" to politicians, post-Brexit, the finance secretary has said.
Mark Drakeford said EU membership made it easier to "protect our industries because we have greater strength".
Steel worker unions have warned a 25% US tariff on steel imports could put jobs in the UK steel industry at risk.
The Welsh Government said it had written to the UK government over its concerns about Mr Trump's plans.
Giving evidence to the Welsh Assembly's Brexit committee on Monday, Mr Drakeford said: "There is no sense at all... in what we've heard from the US administration and let's hope that better arguments will prevail there.
"If they don't, then it's a pretty bleak lesson to those in the UK government that seek to persuade us that there are free trade agreements to be struck around the globe that would compensate us for the loss of our ability to trade with our nearest and our most open market.
"If you've got trade barriers being erected in other parts of the world then the ability of being able to strike those deals seems even weaker."
But he said officials in Brussels could have done more to protect against "dumping and unfair trade practices in the steel sector".
"But if you want a club to do things better you can only do that by being a member of the club," he added.
First Minister Carwyn Jones has previously warned new trade deals with countries such as the United States cannot replace the UK's current trading relationship with the EU.
A Welsh Government spokesman said: "We await further detail on the measures proposed so we can fully understand how they might affect the steel industry in Wales and in the UK and the EU more widely.
"We would be deeply concerned by any measures taken by the US that would damage the steel industry in Wales and we will be writing again to the UK government to express our concerns."
Prime Minister Theresa May is said to have expressed her concern in a telephone call to Mr Trump on Sunday.
Asked in another part of the evidence session about the ongoing disagreements between Welsh and UK ministers over key Brexit legislation, Mr Drakeford said all sides have "got to be willing to give some ground in order to be able to get a workable solution".
The Welsh Government hopes to reach an agreement with the UK government over the impact of its Withdrawal Bill on devolution.
UK, Welsh and Scottish ministers will meet in London on Thursday ahead of a meeting of the prime minister, Welsh first minister and Scottish first minister the following week to try to reach agreement.