Theresa May denies Brexit bill attacks Welsh constitution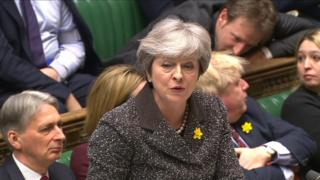 Theresa May has rejected a claim that her Brexit plans "drive a sledgehammer" through the Welsh constitution.
She told MPs the "vast majority" of EU powers in devolved areas would go directly to devolved governments.
The prime minister said it made sense for powers "related to the UK as a whole" to continue to apply UK-wide.
But Plaid Cymru MP Jonathan Edwards said Wales voted seven years ago for full legislative sovereignty in devolved areas.
At Prime Minister's Questions on Wednesday, Mrs May insisted "continuity bills" - as proposed by the Welsh and Scottish governments to prevent an alleged Westminster "power grab" - were "unnecessary".
Carmarthen East and Dinefwr MP Jonathan Edwards told her: "Despite the perceived concessions in this week's speech by the de facto deputy prime minister [David Lidington], the Withdrawal Bill will drive a sledgehammer through the Welsh constitution."
Echoing the language used by prominent Brexiteers, he added: "Isn't the reality that under your plans for Brexit Britannia, Wales would be a rule-taker, a vassal country?"
Mrs May told him: "You are wrong in what you say about what we're proposing in relation to the devolved administrations.
"We will be devolving far more powers to the devolved administrations.
"Indeed, that is something this government has done only recently in the Wales Act. We have seen new powers being devolved to the Welsh Government.
"We are absolutely clear that we want to see the vast majority of powers returning from Brussels starting off in Edinburgh, Cardiff and Belfast - and not in Whitehall.
"But we're also clear that where powers are related to the UK as a whole it makes sense for us to ensure that they continue apply across the whole of the United Kingdom in the same way."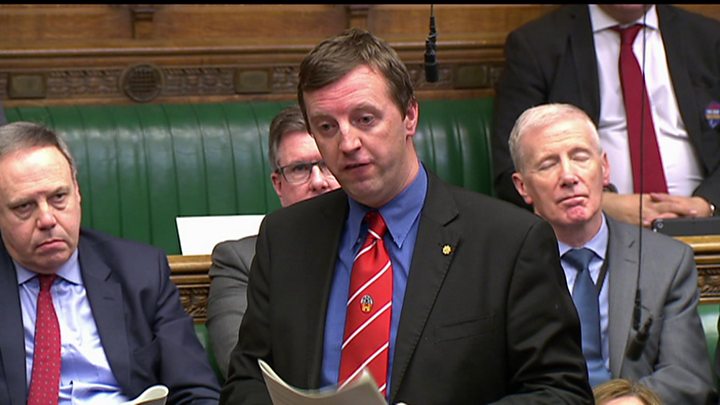 Earlier, Mrs May told SNP Westminster leader Ian Blackford that the UK government had given an "absolute commitment" to re-write a controversial clause in its own Brexit legislation seen as placing new restrictions on the devolved bodies.
She said Mr Lidington had recently met Welsh and Scottish ministers and had put forward a further proposal "which ensured that more powers are directly devolved to the Scottish and Welsh governments and in due course with the Northern Ireland executive".
"It was acknowledged that that was a significant step forward," the prime minister said.
Rejecting continuity bills as "unnecessary", she told Mr Blackford: "It would be rather more helpful if you were to concentrate on reaching an agreement in relation to the withdrawal agreement because we want to ensure more powers are devolved to the devolved administrations. That's what we're going to deliver."
Mr Blackford said: "It's no surprise that the Scottish and Welsh governments are putting forward continuity bills to stop the power grab by Westminster."